Apple stops "buy, buy, buy"
2022-08-11 21:21:12
9 read
Apple, which is not known for its investment in the first place, has further slowed down the pace of foreign i...
Apple, which is not known for its investment in the first place, has further slowed down the pace of foreign investment and mergers and acquisitions.
Apple's SEC filings show that Apple's spending on acquisitions has shrunk significantly over the past two years. In the first three quarters of fiscal 2022, which ended June 25, Apple spent $169 million in cash flow to invest in mergers and acquisitions, and in fiscal 2021 it was even less at $33 million. This compares to $1.524 billion in fiscal 2020 and $624 million in fiscal 2019. In other words, Apple's M&A investment spending in the last two years is only 1/10 of that in 2019 and 2020.
Another indicator is more intuitive. Only two companies will be publicly acquired by Apple in 2022, and only one in 2021. Bloomberg reporter Mark Gurman described the slowdown in deal flow as a "trickle down." After all, in early May 2019, Cook told CNBC that Apple was acquiring a company every two to three weeks on average.
Apple's move to reduce acquisitions this time seems to be expected. The poor economic environment has been the most used reason for leaders of large companies this year. A few days ago, when SoftBank's financial report showed that the Vision Fund's total investment this quarter was only about $600 million, a fraction of the $20.6 billion in the same period last year, Son explained it as a necessary contraction in a chaotic economic environment.
As the world's largest consumer hardware company, Apple is inevitably affected by the economic downturn. The financial report released at the end of last month showed that under multiple factors such as supply chain challenges, epidemic blockade and inflation, Apple's revenue in the third fiscal quarter was 83 billion yuan. US dollars, the growth rate was only 2%, and the net profit was 19.4 billion US dollars, a year-on-year decrease of more than 10%.
The cold winter is coming, and the landlord's family has no surplus food? Obviously things are not that simple.
01 Apple's reduction in mergers and acquisitions is also because of the economic downturn?
Since the second half of 2021, affected by a series of factors such as high inflation, the central bank's interest rate hike, and the conflict between Russia and Ukraine, the European and American economies, which have just recovered from the epidemic, have been hit, and it is difficult for technology companies to stay out of it.
According to statistics, most of the technology giants have cut spending by more than 10% this year, including Musk, Zuckerberg and other technology company bosses who have expressed unoptimistic expectations for the economic situation, and have laid off staff and cut costs.
In this context, reducing or even stopping foreign investment activities has become the norm. Musk regretted the acquisition of Twitter. Although he said that because of Twitter's business data, the economic downturn caused Twitter's stock price to plummet, which may also be an important reason.
Apple, too, is slowing hiring and spending. According to Gurman's previous reports, the number of Apple employees will likely stop growing in the future, and the operating expenses spent on "R&D" and "general" will also stop increasing. That's been a rare occurrence in the past decade or so. Since 2009, Apple has added about 5,000 to 12,000 employees a year, and its operating expenses have grown by at least $4 billion a year over the past five years.
Clearly, Apple is aggressively "hitting the brakes."
Cook's slightly public relations response also supports this view: in the context of economic headwinds, Apple is unlikely to slow down spending elsewhere. "We're making thoughtful decisions about where to put our money because we're not sure where the economy is going going forward, but we're continuing to hire, just doing it in a very thoughtful way," he said.
Still, there are indications that the broader economic environment isn't the only factor behind Apple's slowdown in acquisitions.
As one of the most profitable companies in the world, Apple is still generating massive free cash flow every quarter. If Apple wants to acquire, it has a lot of money to spend, but currently, Apple chooses to spend the money on stock buybacks and dividends.
As of June 25, 2022, Apple had $179.3 billion in cash and marketable securities. That said, it has the sheer power to act quickly if it decides to make a deal. And, Cook attended last month's Sun Valley Conference in Idaho, a popular venue for large M&A brokers.
Secondly, the time point for Apple to slow down its acquisitions is much earlier than the time point when the market has turned from optimism to pessimism since the beginning of this year. It can even be said that at the high point of the economy, Apple chose to actively brake. On August 25, 2020, after acquiring VR startup Spaces, Apple began to sharply slow down its acquisitions. At that time, the general investment sentiment in the market was still very high, and it was impossible to predict the occurrence of various black swan events such as the Russian-Ukrainian conflict, geopolitics, and supply chain blockade.
It is worth noting that in the same general environment, other technology giants are still actively investing in mergers and acquisitions. In January, Microsoft made an offer to buy Activision Blizzard for $69 billion; in March, Alphabet's Google bought cybersecurity firm Mandiant for $5.4 billion; and just recently, Amazon bought Roomba vacuum cleaner maker iRobot for $1.65 billion. .
To paraphrase an old Chinese saying, slow down the pace of acquisitions, Apple "can't do it, it can't do it."
02 Apple invests, stuck in innovation
For many large tech companies, the urge to grow through acquisitions is hard to resist, especially when they have ample cash flow on the books, but Apple is not such a company.
When asked about acquisition plans on two recent earnings calls, Cook said that if the right opportunity arises, he doesn't rule out a bigger deal, but he won't just buy it to increase revenue. Apple needs help "We're always looking" for talent or technology in its strategy.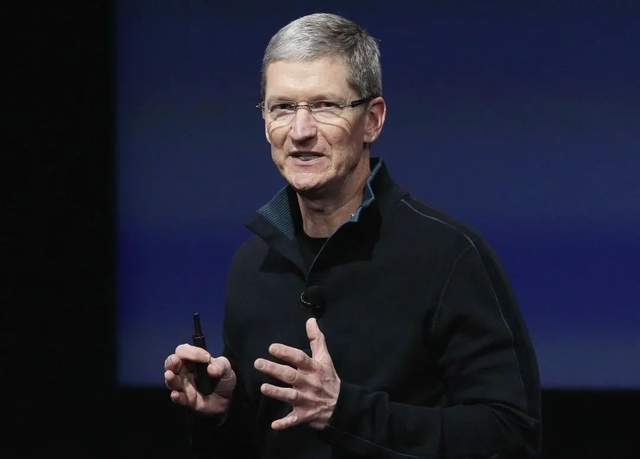 Apple CEO Cook | Image source: Visual China
In Apple's history, it has almost never made financial investments. Its consistent investment strategy is to look for talent and intellectual property, focus on small companies that can be integrated into internally developed projects, and form synergy with existing business ecosystems.
For decades, Apple has cherished its own brand very much, and has never easily launched a sub-brand or derivative brand, and has never even asked for a spokesperson. Apple doesn't graft other big brands or very established companies into its ecosystem. In the past few years, there have been rumors of Apple's acquisition of Netflix and Tesla, but in the end they only stayed in the rumor stage.
The only exception may be the acquisition of wireless headphone brand Beats in 2014. Up to now, the acquisition of Beats is still the largest deal of Apple's announced acquisitions, but it is only "a mere" $3 billion.
But from the results, after Apple acquired Beats, it did not develop it independently, but integrated Beats Music and Beats Electronics into Apple's Apple Music streaming service and wearable device hardware, respectively. Now, there is no Beats radio station in Apple Music, and Beats headphones are also stuck in very small shipments. Compared with the success of Airpods itself, the shipments of Beats headphones are not enough.
Apple is the most valuable brand in the world. The brand value of the acquisition target does not make much sense to Apple. Instead, it is more meaningful for Apple to acquire some small companies that have just taken shape to help Apple become more successful in the underlying technology.
For example, some core technologies in Siri and Face ID originated from acquisitions. Some of Apple's chip division employees and technology come from Intel's baseband business unit, which it bought for $1 billion in 2019. In addition, the multi-touch technology behind the iPhone and iPad, as well as the operating system at the heart of all products, also stemmed from acquisitions.
Take AuthenTec, for example, a company involved in computer security, biometrics, mobile devices and more, which has provided Android device manufacturers with NFC mobile payment and boarding solutions. After being acquired by Apple, AuthenTec developed Touch ID for the iPhone, iPad and Mac and is still in use today.
However, after years of development of mobile smart devices represented by smartphones, the space for innovation has been very limited. Today, there are fewer and fewer innovations on the iPhone and iPad, and the Apple industry chain has also matured under Cook's control for many years. , Even the most difficult chip business, Apple has already achieved self-research of the entire product line in 2020. Whether it is innovation and upgrading or industrial chain reinforcement, investment and mergers and acquisitions can not bring much to Apple.
In addition to the above-mentioned upstream and downstream investments to complement and strengthen existing businesses, Apple also conducts long-term business layouts through acquisitions. For example, in the early days of innovative businesses such as smart watches, AWS wireless headsets, autonomous driving and smart glasses, Apple also accelerated the research and development process by acquiring some companies with patents and talents.
But in the past two years, Apple's progress in the long-term innovative business has not been smooth. Since 2018, the two major innovative businesses Apple has invested in are AR augmented reality and smart cars, and the development of both businesses has encountered challenges.
The launch date of Apple's AR glasses has been repeatedly delayed. It was initially expected to have the opportunity to mass-produce in 2020, and the latest estimate is that there will be no interviews until 2023. In fact, until now, Apple has not officially announced this product in any public occasions, and the launch time may continue to be delayed.
Things are looking even worse for the electric car business, with little news about Apple Cars deliveries, other than the constant news of high-level hires. Even according to Ming-Chi Kuo's revelations in March this year, Apple's car project team has been disbanded for "a period of time" and needs to be restructured in the next three to six months to achieve the goal of mass production of cars by 2025.
In the automotive field, Apple acquired the self-driving company Drive.ai in 2019, which was once valued at $200 million. In the more complex field of augmented reality, Apple has acquired more upstream and downstream companies, and more than 20 companies have only disclosed public information, covering technology companies in the fields of chips, sensors, displays and other fields related to hardware production, as well as companies that build an AR ecosystem. Software and content companies typically include German veteran eye tracking company SMI, Japanese screen technology company JDI, and American VR live broadcast company NextVR.
But all investment acquisitions were made before 2020, and even the vast majority of key technology and hardware companies completed acquisitions between 2015 and 2018. Over the past four years, Apple has been stuck in the development of new products and has been slow to deliver products that can be mass-produced. This is not a problem that can be solved by acquisitions.
For a technology company, there are not too many long-term businesses that can be fully invested in. Even for Apple, promoting the two major businesses of automobile and AR at the same time is already the limit. When the development of new businesses is stuck and there is no new direction worth investing in, it is not surprising that Apple has slowed down the pace of investment and mergers and acquisitions.
Article Comments (0)
This article has not received comments yet, hurry up and grab the first frame~