Intel is not losing to AMD and TSMC, but to itself
2022-08-09 23:48:03
22 read
On July 29, after Intel released its earnings report, its stock price fell by nearly 9%, while AMD's stock pri...
On July 29, after Intel released its earnings report, its stock price fell by nearly 9%, while AMD's stock price rose by more than 3%, surpassing Intel ($148 billion) again with a market value of $153 billion. This symbolic signal was 5 days later. AMD's earnings report was reinforced.
On the one hand, Intel reported its worst financial report since 1999, with revenue falling 22% year-on-year to $15.3 billion; on the other hand, AMD's revenue grew for the eighth consecutive quarter, with a record high growth of 70% year-on-year in the quarter , reaching 6.6 billion US dollars, the strength of the former Intel CEO Brian Krzanich's sentence "AMD will not come back."
The explanation for Intel veteran Pat Galsinger, who returned as CEO last year, pales in comparison: The quarter's performance was hurt by macroeconomic headwinds and a decline in PC market shipments.
Indeed, in the first two years of the new crown epidemic, the demand for remote office surged, and PC shipments were advanced in advance; but now, this part of "early overdraft" shipments is shrinking at an accelerated rate. Since this year, the global PC market shipments decline in the second quarter.
But obviously, objective factors such as the external environment cannot explain Intel's tragic financial performance. On the earnings call, Bank of America analyst Vivek Arya asked Pat Galsinger directly: "I can understand the PC market weakness, but the odd thing is: data center results were also nearly 25% lower than expected due to competitive pressures. After all, most enterprise and cloud customers reported revenue and expenses that were largely in line with expectations."
Gelsinger admits: Our own execution in areas such as Product Design, Data Center and Artificial Intelligence (DCAI), Accelerated Computing Systems and Graphics (AXG) has been problematic.
In fact, in order to promote the execution of Intel's various businesses, Gelsinger has carried out a number of business reforms since he took office in January 2021. According to this logic, Intel's performance under pressure this quarter can be described as the pain of reform. During the earnings call, he repeatedly used words such as "will", "expected" and "right" to explain that the performance of this quarter was just pain. But the outside world doubts, can Gelsinger really bring Intel back to its former glory?
From a well-deserved overlord, to being overtaken or even surpassed by an opponent who once looked down on him. Since when did Intel's market position cease to be strong?
Since the release of the Core 2 series CPUs in 2006, Intel has been the undisputed big brother in the market. During the same period, AMD, which fell into financial crisis and stagnant research and development due to the huge acquisition of ATI, entered the darkest moment of the decade.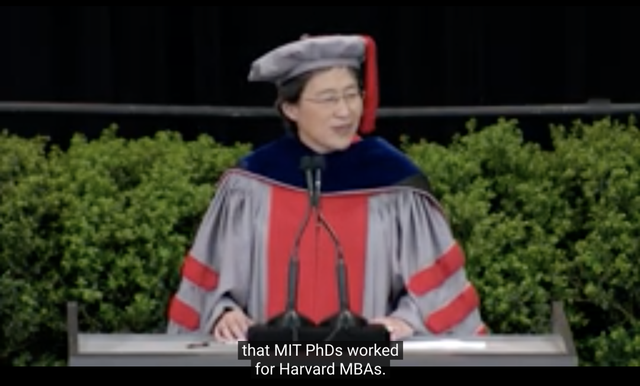 In 2017, AMD CEO Su Zifeng said when he returned to his alma mater: Why do MIT doctoral students work for their MBA? doesn't make sense
In 2012, when Su Zifeng took over AMD, AMD's market value was only one percent of Intel's, and it was on the verge of death for a time. At that time, AMD was often ridiculed: the biggest significance of its existence was to prevent Intel from being split due to monopoly.
Until 2017, with the emergence of the Ryzen processor based on the Zen architecture, AMD gradually returned to the center of the stage. With the blessing of TSMC's advanced process, the chip performance of the Zen3 architecture even surpassed that of Intel, and was even subject to Intel's "squeezing toothpaste". "Formula" product release consumers defected and shouted: AMD YES!
Clearly, Intel is gradually losing its dominance.
01 10nm "Seven Years Itch"
Looking back at the fall of Intel, I have to mention the "Tick-Tock" that it has adopted over the past decade.
As far as the chip industry is concerned, there are three different types of companies in the market. One only does chip design (Fabless), such as Nvidia, Qualcomm and AMD, which sold the Global Foundries fab in 2008; the other only does chip manufacturing (Foundry), such as TSMC, SMIC and other foundries; also There is one that does both (IDM), like Samsung and Intel.
With the advancement of Moore's Law, both chip design and chip manufacturing require huge investment in research and development, which is a big challenge for Intel who chooses the IDM model.
So, in 2007, Intel officially proposed the Tick-Tock model to allocate resources for chip design and chip manufacturing.
Tick-Tock is derived from the ticking sound of the hands of a clock. Intel said that the Tick-Tock cycle is a two-year cycle, a Tick for one year and a Tock for one year. Each Tick represents an update of the processor wafer process of a generation of micro-architecture (ie chip manufacturing), which means that the chip area, energy consumption and heat generation are reduced under the same processor performance; Based on the wafer process of the last Tick, update the microprocessor architecture to improve performance (ie chip design).
Intel believes that staggering the timing of the two can make the business of designing and manufacturing microprocessor chips more efficient.
However, a problem arose when Tick-Tock mode ran to the 5th generation Core processor Broadwell. Due to the limitations of the manufacturing process, 14nm has been continuously delayed. The business that should have transitioned to 10nm was subject to the 14nm process technology, and even 14nm+ and 14nm++ appeared later. In the end, Intel cards have been in the 14nm process for 7 years.
At the same time, AMD entered the 7nm process from the backward 32nm process, relying on TSMC's advanced process to regain a city. Just recently, AMD announced that it will launch the Ryzen 7000 processor using TSMC's 5nm process technology in the third quarter of 2022.
In fact, the pendulum pattern that integrates chip design and chip manufacturing has inherent problems. This means that Intel mainly relies on its own resources for blood transfusion research and development, and uses Intel's own chip design and chip manufacturing orders to support the research and development of design and process respectively. In contrast, TSMC, which does not participate in design and only manufactures chips, relies on orders from the world's top chip design companies for iterative research and development, which is naturally more efficient.
Second, this strong bond means that chip design and chip manufacturing go hand in hand. Once there is a mistake in the technical route, everything will be lost, and both the design department and the manufacturing department will fall behind.
However, the correctness of the technical route is often not tested by the market until many years later, and the market demand is often not seen until many years later. In this regard, Intel has repeatedly missed the tailwind of the times.
02 Betting on the wrong technical route and losing Apple
The first is the most regrettable mobile chip.
As early as 2005, Apple made a request to Intel to develop a mobile phone CPU, but then CEO Paul Otellini believed that the profit margin was small and risky, so he rejected Apple.
This directly caused Intel to miss the opportunity to get a share of the underlying hardware of the mobile Internet, and the ace X86 architecture of the PC era was gradually replaced by the Arm architecture in the wave of the mobile Internet. Even a few years later, when Intel in turn recommended its own mobile chip Atom to Apple, Apple directly rejected it because of its shortcoming of power consumption ratio.
In 2016, Intel stopped developing Atom chips and has since withdrawn from the mobile chip market including mobile phones and tablets.
In addition, in Intel's old line of desktop chips, Intel also made the wrong bet. When producing 10nm chips, Intel used Nikon's Immersion lithography technology instead of Asmar's EUV lithography machine, which is more suitable for advanced processes. This has stalled production of its 10nm chips, delaying deliveries for three years.
Similar problems occurred many times, which seriously affected downstream hardware manufacturers, and eventually made Intel lose Apple, an important partner and a major customer.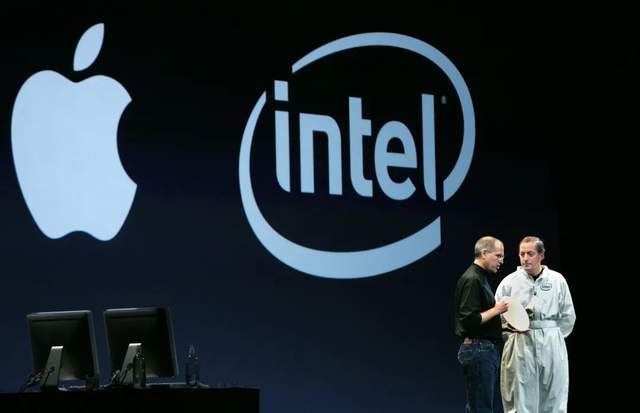 At the 2006 Macworld conference, then Intel CEO Paul Otellini appeared in a protective suit through dry ice smoke and handed Jobs the silicon wafer in his arms
Jobs has previously said that if Intel fails to upgrade its chips in time, Apple will stay put. This is indeed the case. In 2018, Apple said that the Macbook needed to be redesigned because of Intel's chip problems; the following year, it blamed Intel's lack of production capacity for the decline in Macbook shipments; in 2020, Apple officially gave up its partnership with Intel since 2006. cooperation, removed the last Intel chip, and announced the realization of self-developed chips for the entire product line.
In this regard, Franois Piednolc, a former Intel engineer, once revealed, "If so many problems were not found in the Intel Skylake microarchitecture, they would still use Intel chips, but the situation was very bad. There are so many small bugs in Skylake that customers are deeply disturbed by it."
In addition, in the betting on the frontier track, Intel's choice also made mistakes. Acquisitions and restructurings in the chip field are seen as opportunities for overtaking in corners, especially in emerging fields. In February of this year, AMD acquired Xilinx to make up the FPGA puzzle, which was seen as a successful acquisition. But Intel's acquisitions in the field of self-driving chips are about to draw a question mark.
In 2017, Intel acquired Mobileye, a self-driving chip company, for $15.3 billion. At that time, Mobileye was a well-deserved market leader with a market share of more than half.
But in the ensuing years, Mobileye's problems gradually emerged. New car manufacturers headed by Tesla need to be able to develop software for autonomous driving technology on existing chips and algorithms, which requires chips to be able to decouple software and hardware. Mobileye's highly packaged technical route obviously does not match new energy vehicle manufacturing. Therefore, other competitors such as NVIDIA and Qualcomm gradually took away Mobileye's market.
Intel, who thought it was betting on the eyes and brains of autonomous driving at the time, has now lost interest in Mobileye. Although Mobileye's revenue is still growing due to the backlog of orders, Intel has repeatedly said that it will break up Mobileye.
03 "Chip Act" to save Intel?
In order to revive the dynasty of Big Blue, in February 2021, Intel invited back the first CTO in its history, Pat Gelsinger, to serve as the eighth CEO. Since taking office, Gelsinger's actions have pointed in two directions: execution and innovation.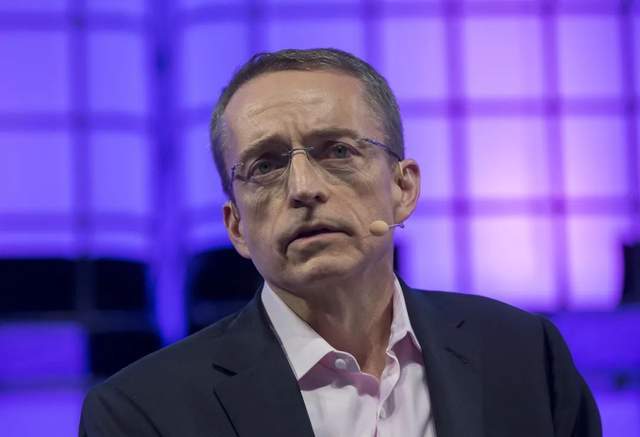 Pat Galsinger|Image source: Visual China
On the earnings release day, Intel announced that it will gradually shut down its Optane memory products. According to statistics, this is the sixth non-core business sold by Gelginger. If it is said that abandoning non-core business is to focus on the main business, then, at present, Intel's focus is on unbundling chip design and chip manufacturing.
In fact, in the past, it was risky to abandon chip manufacturing (Foundry) and focus on chip design (Fabless) like AMD did. But in the current environment of declining investment patience and confidence, a solid cash flow and balance sheet are more reassuring. Intel is already on the ropes.
But Gelsinger did not choose to give up the fab, but unbundled the manufacturing department from the company's design department, namely: launching the IDM 2.0 model. This new model still does chip design and chip manufacturing at the same time, but in terms of manufacturing, Intel not only manufactures chips for itself, but also manufactures for other chip manufacturers, and also outsources some of its own manufacturing tasks to other foundries. Gelsinger believes that such a more flexible chip-making sector could increase the ability to resist risks and also create stronger business capabilities.
An analyst who has followed Intel for many years said that Intel wants to use TSMC's advanced manufacturing process to meet the needs of existing customers for high-end chips, find more potential market demand, and expand orders for the design department.
On the other hand, Intel also wants to strengthen its manufacturing capabilities. At present, Intel has successively announced the establishment of wafer factories in Arizona and Ohio, and increased investment in chip manufacturing of advanced processes, directly pointing to the territory of TSMC and Samsung. In the list of major customers that Intel has announced, MediaTek chose Intel to do the foundry.
But it remains to be seen how effective the IDM 2.0 model will be. Although Intel's technology accumulation over the years is still alive, its design-and-manufacture niche has left it full of competitors. At least, AMD and Nvidia want TSMC to do the foundry, not Intel.
In addition to unbundling chip design and chip manufacturing, Galsinger must ensure execution. He said: "I rejoined Intel to revive and rebuild a culture of execution and innovation." And, over the next few months, he will unveil new pendulum patterns "to drive a consistent and predictable pace of process and design innovation."
Of course, a battle at the commanding heights like chips can never be completed in one battle, and there are still many variables. It is necessary to make protracted preparations and strive for the right time and place. Looking back on history, the rise of TSMC is inseparable from the background of the great power game containing Japan and South Korea, as well as Zhang Zhongmou's top contacts as an old colleague of Intel founder Grove, plus the life-threatening research and development of every TSMC engineer. As strong as Apple, it will take 14 years of continuous and vertical integration to realize the self-research of the whole product line of chips.
Gelsinger is well aware of this, and is also actively mediating the help of external forces.
On the earnings call, he couldn't help saying that the "Chip Act" would be good for Intel: "With the passage of the Senate, House of Representatives, look forward to appearing on the president's desk in the next few days and signing into law. "Chip The Act is historic legislation, possibly the most important industrial policy passage in Congress since World War II. It will be our strategic booster." Passing this bill will give Intel a lot of money, and also It may affect the competitive landscape of chip manufacturing.
Article Comments (0)
This article has not received comments yet, hurry up and grab the first frame~