Instagram copy of TikTok is disliked
2022-08-10 23:18:50
15 read
Author | Chen WenqiThe Kardashian sisters Kylie Jenner and Kim Kardashian, two absolute top performers with a com...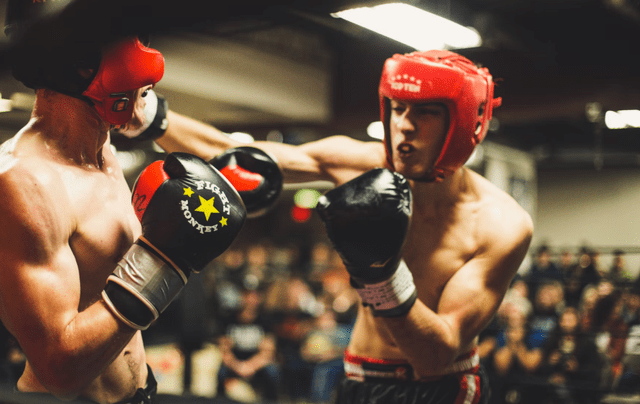 The Kardashian sisters Kylie Jenner and Kim Kardashian, two absolute top performers with a combined 680 million followers on Instagram, blasted the platform that keeps them famous, retweeting the picture: "Stop it, don't think about it. It's TikTok and I just want to see cute pictures of my friends." The pair supported a petition by photo blogger illumitati, which helped fuel the "protest".
The reason is the recent changes on Instagram: 1. More and more advertisements appear in the homepage image stream; 2. More recommended content;
As a result, the intuitive feeling of users is that Instagram is more and more like TikTok. When I opened this photo sharing app recently, nine of the ten contents were unfollowed, and the recommendation algorithm seemed simple and crude. If you follow some pet accounts, countless seals and otters will appear (although they are really cute). , If you follow fitness bloggers, then wait for a bunch of gym and fitness-related ads.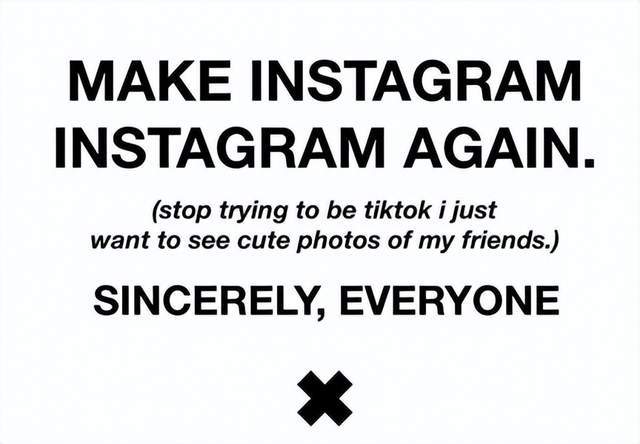 "Stop it, stop trying to be TikTok, I just want to see cute pictures of my friends." retweeted initiative on Instagram
Since the rise of TikTok, the nerves of overseas social media and video giants have become tense, and many startups have also focused on the short video model, including clumsy imitations and attempts to make good content, such as Reels within Meta products, independent The app Lasso (closed in 2020), Shorts inside Youtube, Quibi that wants to be a short video version of Netflix (also closed in 2020).
There are many apps that have been eliminated, but the sniper war of the giants is not over yet: Meta radically revamped Instagram to increase video recommendation; Youtube announced last month that Shorts now has more than 1.5 billion logged-in users per month, which is equivalent to Youtube every month. The total number of monthly logged-in users is 3/4. For comparison, TikTok's official monthly activity announced in September last year was 1 billion.
Whether it is an independent application or a short video function within a large app, the appearance is similar, with a full-screen interface that slides up and down, buttons for likes and comments, but the difference is their respective algorithm logic, creator ecology, and business model. How are the differences manifested?
The short video application interface is similar from left to right: TikTok, Reels, Shorts
Meta picked up the sesame and lost the watermelon
Meta's major changes to Instagram this time have brought online celebrities, ordinary users, and journalists to a united front, and dissatisfaction has spread from Instagram to Twitter, Reddit, and major news sites.
The protest forced the head of Instagram, Adam Mosseri, to respond directly. In an Instagram video on July 26, he explained three things: 1. The function of the app is constantly changing. Test, admit that it is not good enough; 2. Picture to video content is a big trend, we have seen growth, and Instagram is adapting to the changes; 3. Recommendations are to help users discover better content, and to allow some creators to be seen by more people See.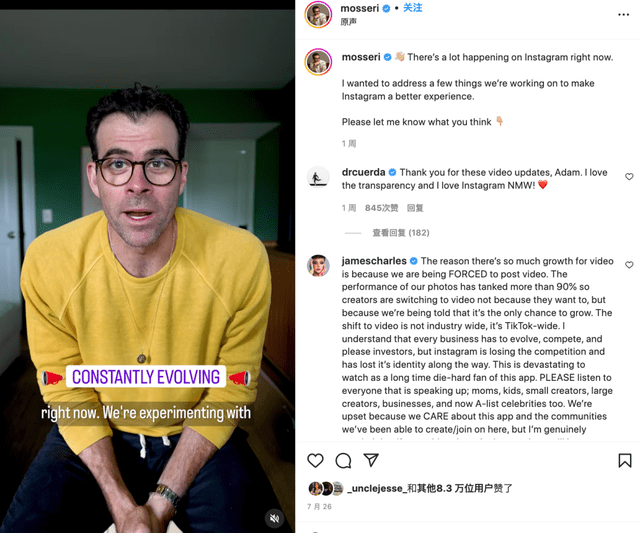 Instagram head Adam Mosseri responds to controversy
This is not like an explanation to the user, but a "respect".
The beauty influencer James Charles, who has 22.8 million followers on Instagram, replied below the video: "The reason for the growth of video content is that we are forced to make videos because of the performance of the image content (views, likes) etc.) dropped by more than 90%, and creators (on Instagram) switched to video, not because they wanted to, but we were told that was the only opportunity for growth." He believes that in the competition in the short video space, Instagram You have already lost, and along the way, lost your own identity.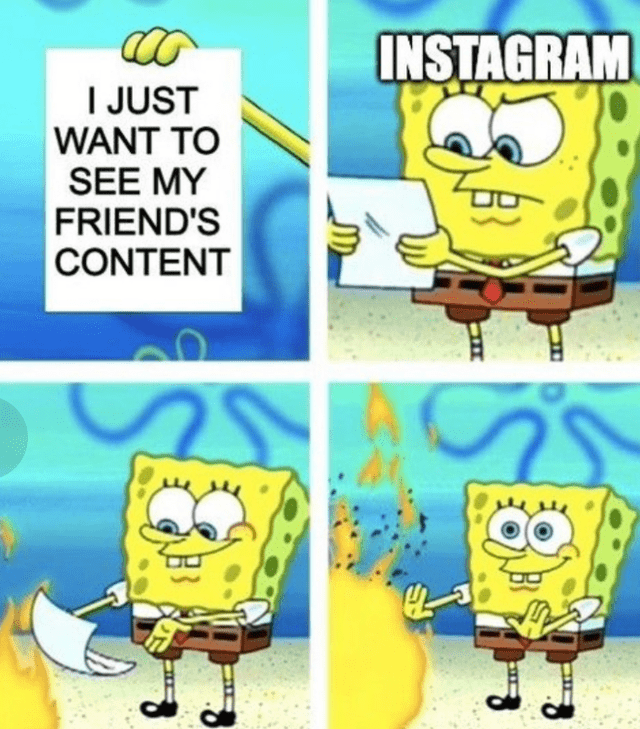 User-made memes
Adding advertisements and recommendations, why does Meta do such a thing to "hurt users"? To sum up, there may be two reasons.
The first is that Meta's revenue and stock price are under pressure. According to the company's financial report data, its Q2 revenue fell 1% year-on-year to $28.822 billion, and its net profit was $6.687 billion, down 36% from the net profit of $10.394 billion in the same period last year. Since the beginning of this year, Meta's share price has fallen by half, and the turnaround has not been seen for a long time. The innovative business benefits related to the name change and Metaverse are minimal. In terms of user data, the applications of the Meta family (Facebook, Instagram, WhatsApp and Messenger, etc.) are already top social platforms, and the high growth rate is impossible to reproduce.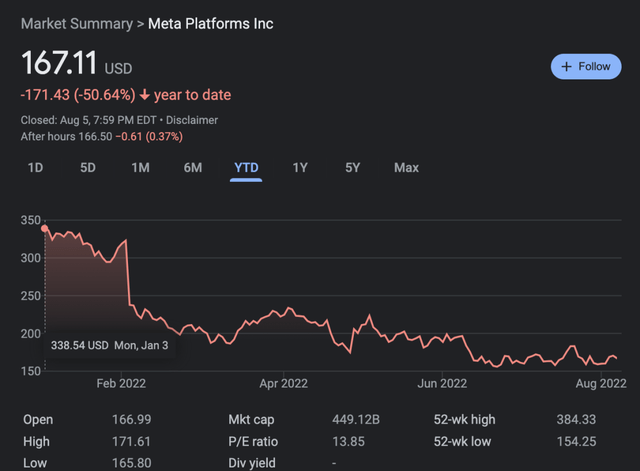 Meta's stock price trend this year
Under such a slump, Meta can only squeeze more oil and water from advertising, its No. 1 source of income.
Second, when it comes to product form, the path dependence and inertia of large companies are too strong, and innovation under the "mid-life crisis" has become a problem. For example, the previous short video application Lasso and the current Reels are considered by users to be copycats of TikTok.
Meta's "plagiarism history" is not short, not without success stories. At that time, in the face of Snapchat's growth, the copied Stories function (24-hour dynamic display), this move did restore Instagram's growth vitality and clamped Snapchat to a certain extent momentum. But the reason it works so well is that this feature really matches user needs and is an iteration on the original Snapchat feature.
And this time the change is more core-algorithm/recommendation mechanism. In the previous conference call, Mark Zuckerberg had a "warning": "An important shift in our business is that the flow of information has changed from being primarily driven by the people and accounts that users follow, to being increasingly driven by AI. Drive, from across Facebook or Instagram, users will see more recommended content."
Recommendation based on interest tags is the algorithmic logic of TikTok, or Douyin. Since its establishment, Facebook has been doing social products. Even if it is recommended content, the logical foundation is the social graph , which is its foundation.
If you can grasp the volume and content accuracy, the user's opposition will not be so great. Could it be that with a technical team composed of elite engineers, Meta is still not good at algorithm recommendation? The debugging of the algorithm takes time, and it needs to be grayed out again and again, and it will not be completed in one step. Although this time it is a "test", it has been used by a large number of users. This is a problem.
Of course, social networks are important. This is a tool that makes users more sticky and recommends more accurate. Douyin has also been doing social networking. TikTok became popular overseas at the beginning. In fact, one of the reasons is that it effectively avoids "socialization", and uses the new form of short video to do entertainment. Users can participate in and satisfy instantly, without the precipitation of social relations. You can start swiping up and down to kill time.
But Meta wants to change the algorithm logic now, but it gives people the feeling of "strong melon is not sweet". This Instagram change is definitely a harm to users. The recommendation is not accurate and effective, and it has also affected the original social graph. shock. Following the controversy, Instagram retracted many of the changes.
Youtube repeatedly emphasizes creators
Take a look at Youtube Shorts, which has officially announced 1.5 billion users. This number has different measurement methods and regional restrictions, and it is not suitable for direct horizontal comparison, but Youtube's intention is to indicate that its short video content is growing rapidly and users like it.
Youtube has two obvious advantages for making short videos, one is the huge YouTube user base, and the other is a mature and stable creator ecosystem.
Launched in 2020, Shorts is a short video application in Youtube. It was first launched in India and later expanded to the United States and other regions. In Youtube's mobile application, Shorts can be accessed from the bottom Tab option.
In an episode of Decoder last August, Neal Mohan, chief product officer of Youtube, traced the "short video gene" back to 2005. The first video "I'm at the zoo" uploaded to the platform was a 18-second video. short video.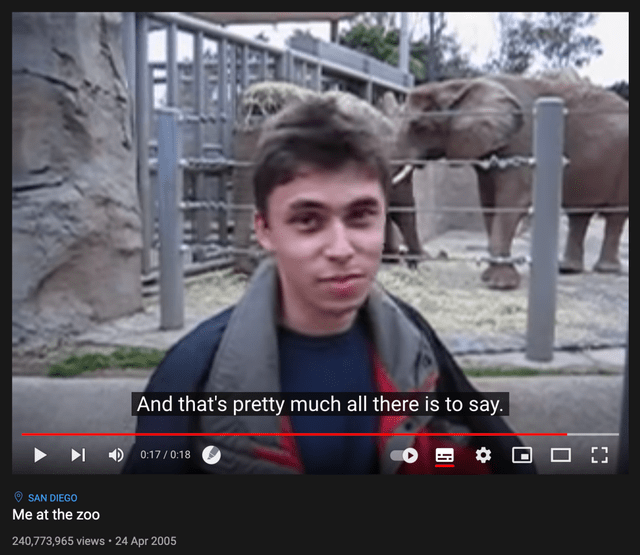 Youtube's origin video "I'm at the zoo"
Since then, various UGC content has popped up, video creators have been paid through Youtube's partner program, sharing mechanisms, etc., and a full-time Youtuber career has emerged. According to him: "Over the past three years (2021) , we have paid creators over $30 billion."
For Shorts, Neal Mohan repeatedly stressed the importance of creators. Youtube's creator ecology and mature sharing mechanism are one of the reasons why many Youtubers are reluctant to turn to TikTok immediately. After all, the content produced here can directly bring benefits. On TikTok and Instagram, creators need to figure out how to monetize their followers' attention.
Since 2007 (a year after Youtube was acquired by Google), the platform has launched a partner program, with a 55/45 share of advertising revenue, with creators accounting for the majority. For the launch of Shorts, Youtube has also prepared a $100 million fund for creators. At present, Shorts itself does not have very aggressive commercial realization moves, and it is more that Youtube is investing.
Regarding the algorithm of Shorts, at the end of July, the official channel "Creator Insider" sent a video to answer questions related to the algorithm. There are three main points: making short videos is a supplement to the form of content, and creators are encouraged to express them in various forms. If the audience is very different, it is recommended to open a new account; the recommendation algorithms for long videos and Shorts are separate. Independent of each other; Shorts also have the opportunity to be featured without the accumulation of original fans or video content.
In addition, Youtube also stated that it will develop and prepare a set of editing tools according to the characteristics of the mobile phone to enhance the usability of the application.
As you can see from this information, Youtube has a different relationship with creators on the platform than it does on TikTok or Instagram.
Then contact the domestic long video websites to make short videos, such as iQIYI's Suika, and you can see that many strategies are different: Suika is an independent application, and its advantage is that the resource advantage of copyrighted content is not UGC content, but with With the slow growth and cooperation with Douyin, it is estimated that the energy and resources invested in this area will be weakened.
All in all, looking at the form and content now, both Shorts and Reels seem to be plagiarizing TikTok, and many of the content they swiped did not even erase TikTok's watermark, the sniper battle of the giants. From this point of view, it is indeed not a success.
TikTok has not been all smooth sailing recently. Many negative reports and news have appeared, e-commerce business expansion is not smooth, company culture and management are not acclimatized, user growth is slowing down... New entertainment methods, distracting applications They are still appearing one by one, such as the social app BeReal, which became popular in overseas GenZ groups this year. The main purpose is to escape the overly beautified ones on Instagram and TikTok, no matter whether it is good or bad, whether it is beautiful or ugly, what it wants is "realism".
Products have a life cycle, and replacement is a natural law, and no one can escape it. Facebook may be the next MySpace, and TikTok may be the next Facebook.
related articles
Article Comments (0)
This article has not received comments yet, hurry up and grab the first frame~