Apple iPhone 'killed' physical loyalty cards?
2022-08-12 17:08:41
31 read
Now when we talk about "card package", we will first think of the card package function in the mobile app.But ...
Now when we talk about "card package", we will first think of the card package function in the mobile app.
But going back 5 or even 10 years ago, picking a card case or wallet with enough card slots to hold a bunch of bank cards, membership cards, and access cards was probably something that each of us would consider.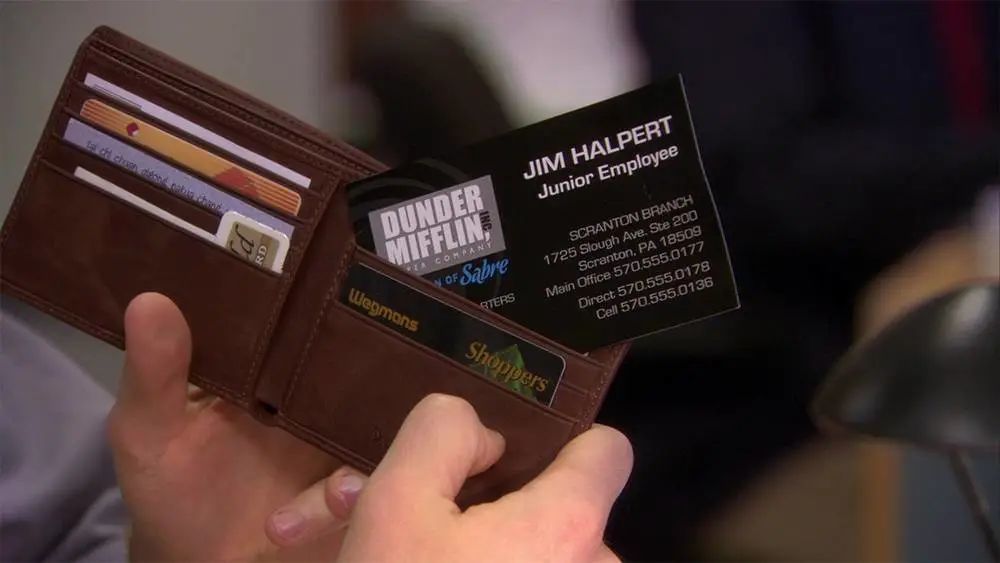 Picture from: Season 7 of the American drama "The Office"
These little cards that seem to be a bit redundant now, have swept the needs of various occasions in the past. Forgetting to bring a card, sometimes not just spending a little more, but being turned away by some "members only" responses.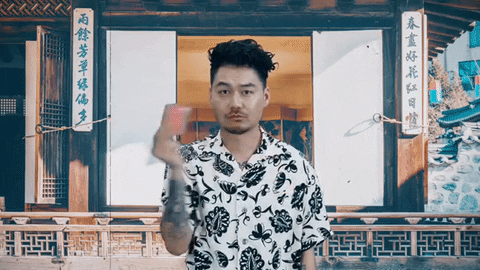 Image via: Giphy
However, with the development and popularization of mobile payment, these small cards also live in our smart phones. The physical cards that we held tightly in the past have now become an embarrassing existence at the bottom of the box. How did all this happen? what about?
Who made the first app to eat up membership cards? Apple 10 years ago
Even the earliest use of the name Wallet (wallet) for mobile payment is Google - in 2011, Google launched Wallet, which uses NFC technology to convert a credit card into an electronic version and store it in a mobile phone.
But the first to target membership cards, coupons, airline tickets, movie tickets and other cards, tickets and passes was Apple's Passbook released on June 11, 2012.
Passbook. Image via: WWDC 2012
At WWDC 2012, when former iOS director Scott Forstall demonstrated the Passbook feature, he first described the new thing in one sentence: "The easiest way to keep all your passes in one place."
Boarding passes, store cards (membership cards) and movie tickets are displayed inside 3 iPhones side by side. With Scott's introduction to Passbook, these 3 iPhones that take up the entire big screen and become 1 iPhone, which is filled with Various cards.
But I still remember when Steve Jobs first introduced the iPhone to the world in 2007, he repeatedly talked about an iPod, a mobile phone, and an Internet communicator, and finally suddenly told everyone that these three were all the same device—the iPhone.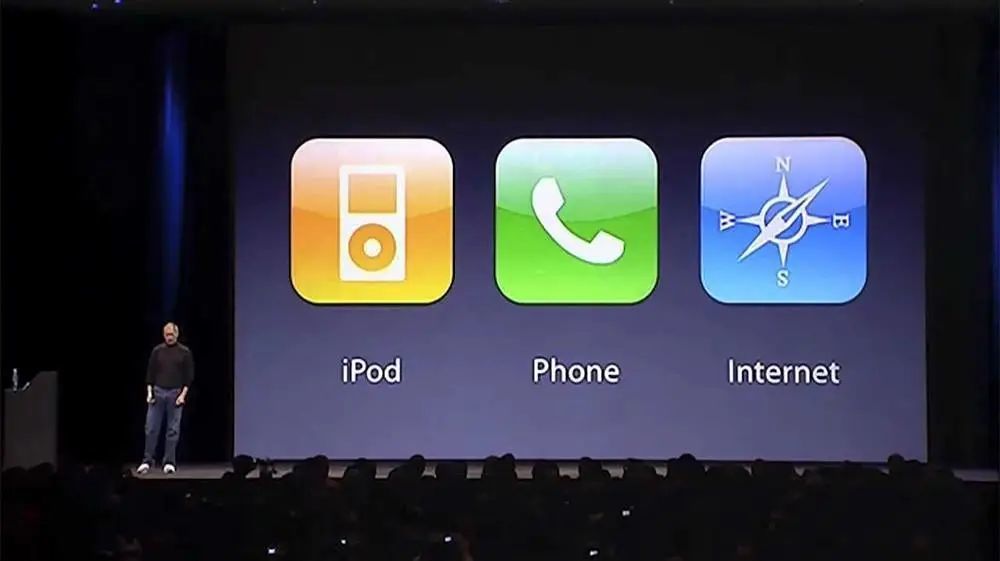 iPhone 2007 launch site
At this point, Passbook really has the DNA of a revolutionary product. In the past, we had to carry so many paper cards to get to movie theaters, airports, and various commercial stores to enjoy the services that we have paid for. Now, with Apple's iOS 6, just open Passbook.
When showing the movie tickets, the Pixar movie "Brave" released that year was presented as a case - simple and clear text information, with a movie poster, and a prominent QR code below. Does this interface look familiar? It seems that the electronic tickets in the current ticket-buying software have traveled back to 10 years ago.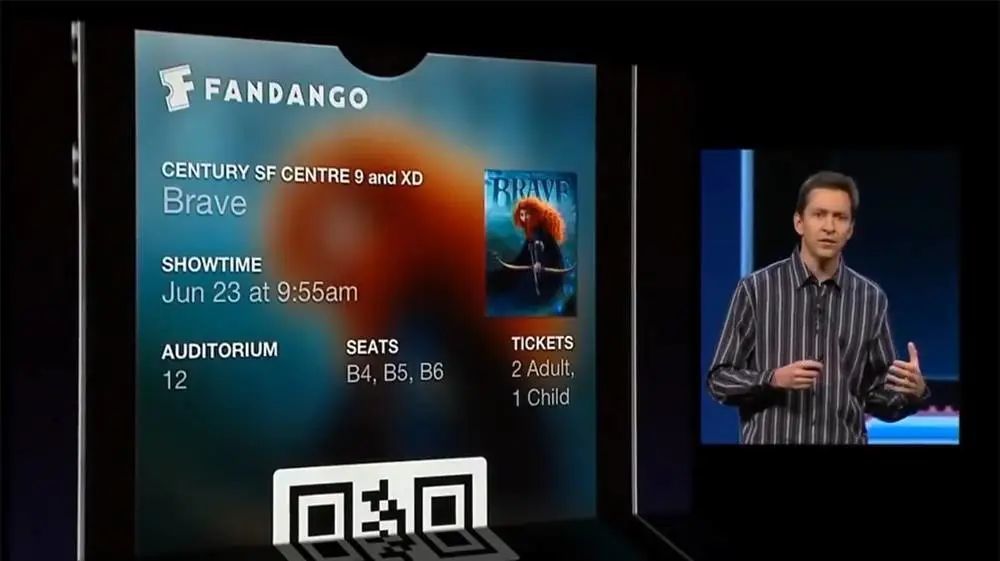 Movie ticket feature of Passbook. Image via: WWDC 2012
When switching to the store membership card, Starbucks appears. This card is very simple and crude in the arrangement of information - balance, user name and QR code. If there is money in this card, showing the balance clearly is more effective than writing more brand slogans.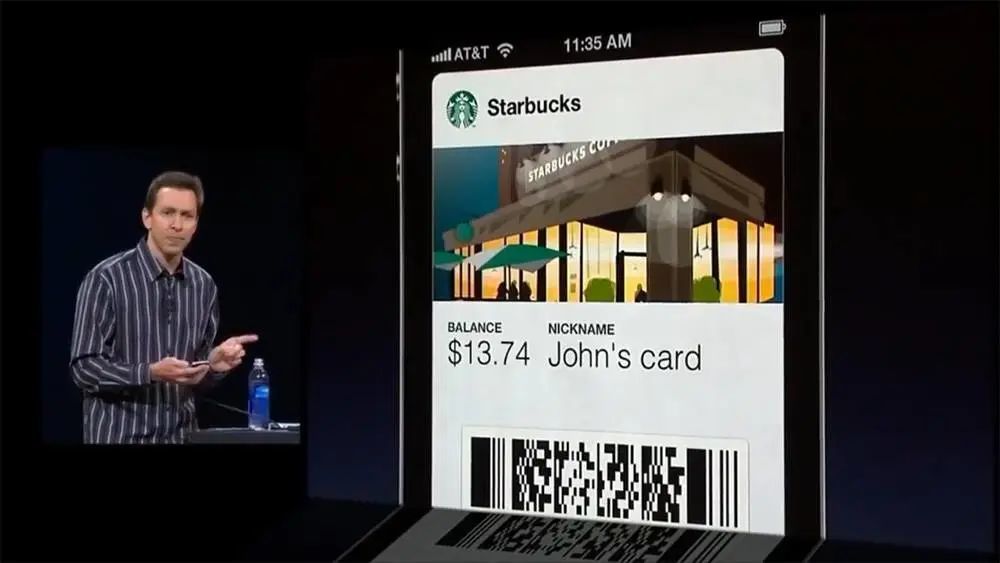 Shown together are ball game tickets, coupons, and boarding passes. The visual presentation of each page is different, but the most important information is presented in the same font size.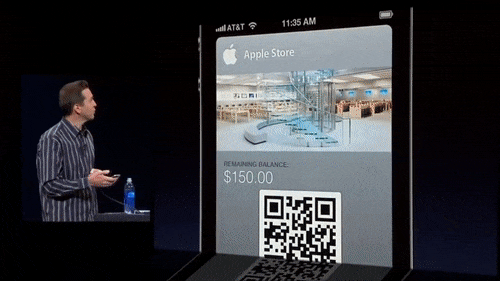 After getting used to it, our eyes will be familiar with the way of information display, and we can find the most important information in the shortest time. On the physical card bill, due to the difference in material and size, there are too many changes that can be made on it. From time to time, there will be an advertisement image that accounts for a large proportion and interferes with the reading of information.
In order to make these cards that live in the phone feel a little more realistic, the Apple team also designed a motion effect for deleting the cards-the deleted cards entered the shredder and were divided into strips of shredded paper with unclear information. .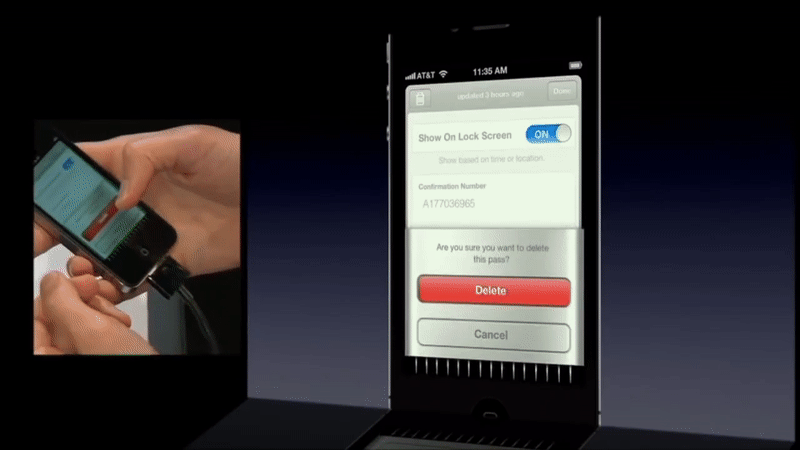 Passbook's broken card effect. Image from: WWDC 2012
On September 19 of that year, Passbook was officially launched with the iOS 6 system. The app with unlimited potential immediately caused a sensation when it was launched.
American Airlines' boarding pass feature in Passbook went live simultaneously on the first day, and within 10 days the number of downloads soared to 1 million. By the end of 2012, American Airlines was serving 20,000 boarding passes per day through Passbook and had 1.5 million active users, a number that grew as more people upgraded to iOS 6.
We were surprised by such a high usage rate. Apple allows app developers like us to put functionality directly in front of users in a space that didn't exist before.
- Phil Easter, Head of Mobile Apps, American Airlines
Electronic boarding pass for American Airlines. Image credit: Wired
The Passbook used in the name itself has the meaning of a passport, and its success on the boarding pass is expected. However, the explosion of usage on gift cards and coupons has come as a surprise to developers.
Sephora, the global beauty shopping platform, had 38,000 more downloads than usual on the day Passbook was launched. Data shows that 10,000 Beauty Insider loyalty cards (similar to membership cards) were added to Passbook on that day. Soon, the Passbook program was flooded with 375,000 Sephora loyalty cards.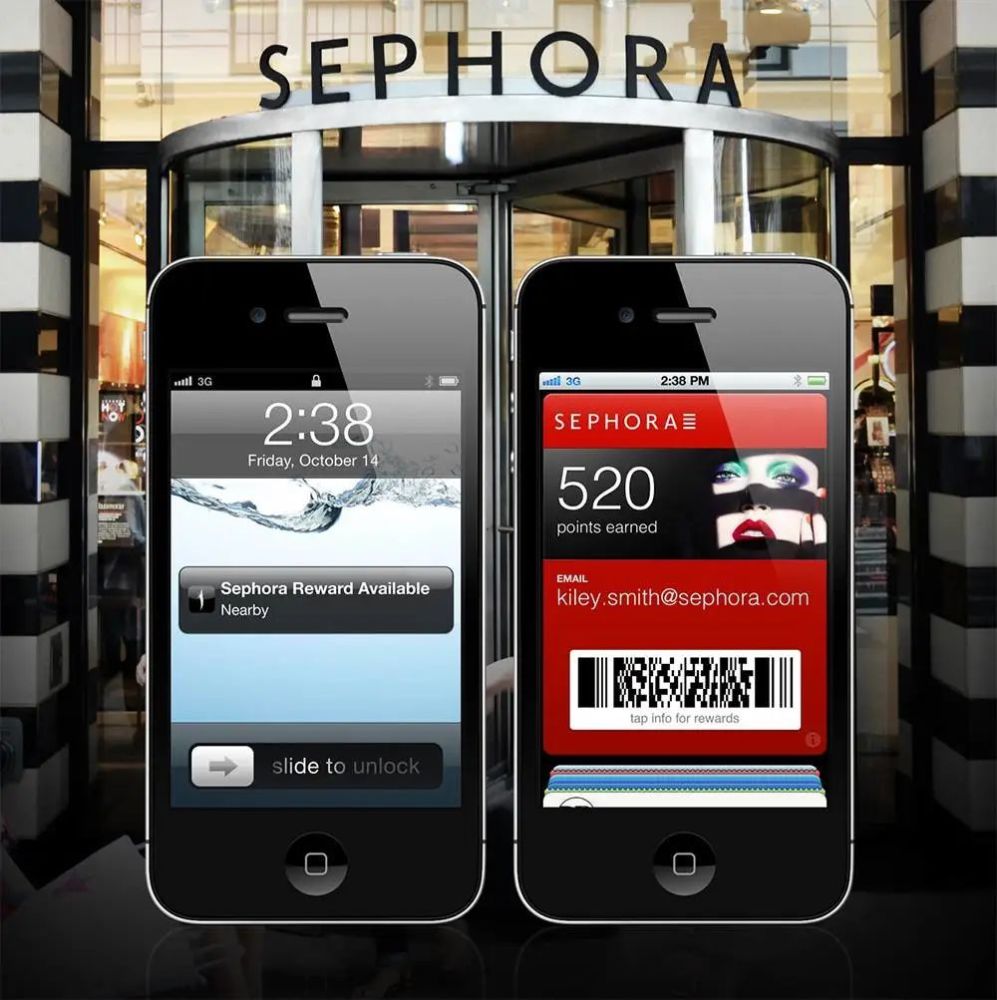 Sephora cards in Apple Passbook. Image via: Tech Crunch
Seeing business opportunities, Sephora also expanded the use of Passbook to gift cards. Julie Bornstein, senior vice president of Sephora's digital division, described it as a seamless experience -- sending gift cards to friends and family, they just hit the accept button, put them in Passbook and they're ready to use.
This practice, which seemed new at the time, is now a daily practice that many people benefit from.
In addition, by scanning the code on the traditional physical card, one electronic card can be easily settled on the mobile phone. Not only the information hidden in the card is clearly displayed, and there is no need to worry about the card expiration, but also merchants can provide more services through the card hidden in the mobile phone, such as issuing coupons and so on.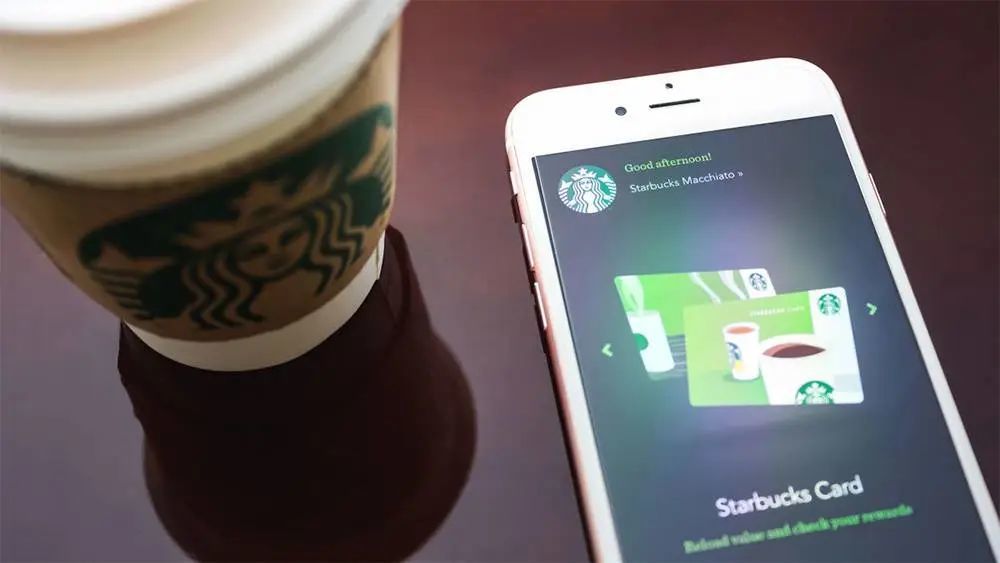 Starbucks card. Image via: CNN
On September 16, 2015, with the release of iOS 9, Passbook was officially renamed to what is now Wallet. The WWDC 2022 just held in June said that in the upcoming iOS 16, Wallet will also be fully upgraded, which is more worthy of the name Wallet, which means wallet.
In the latest Wallet, Apple Pay is responsible for mobile payment, and the pass options include movie tickets, boarding passes, genius bar reservation vouchers, Apple Store online order pickup, Airbnb reservations, etc., in addition to the merchant's membership. Cards and gift cards, insurance policies, proof of Covid-19 vaccinations.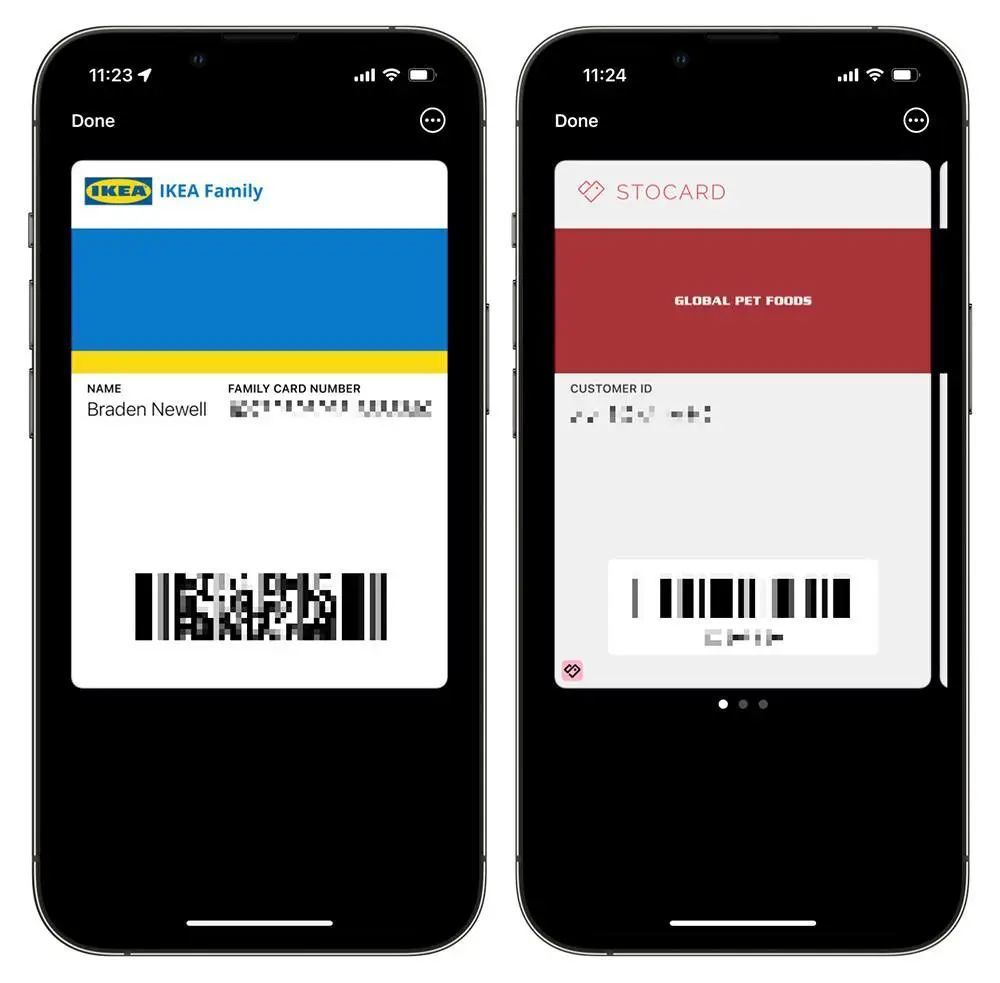 IKEA and Stocard membership cards in Apple Wallet. Image via: Mobile Syrup
In the key options, it can be found that this "key" is not a metal key stored in a key ring in the traditional sense, but a student ID card, employee card, car key and home key, four options covering daily life scenarios.
Wallet not only eats in the physical wallet, but also lives in the mobile phone with the keys - you only need to bring the mobile phone when you go out in the future.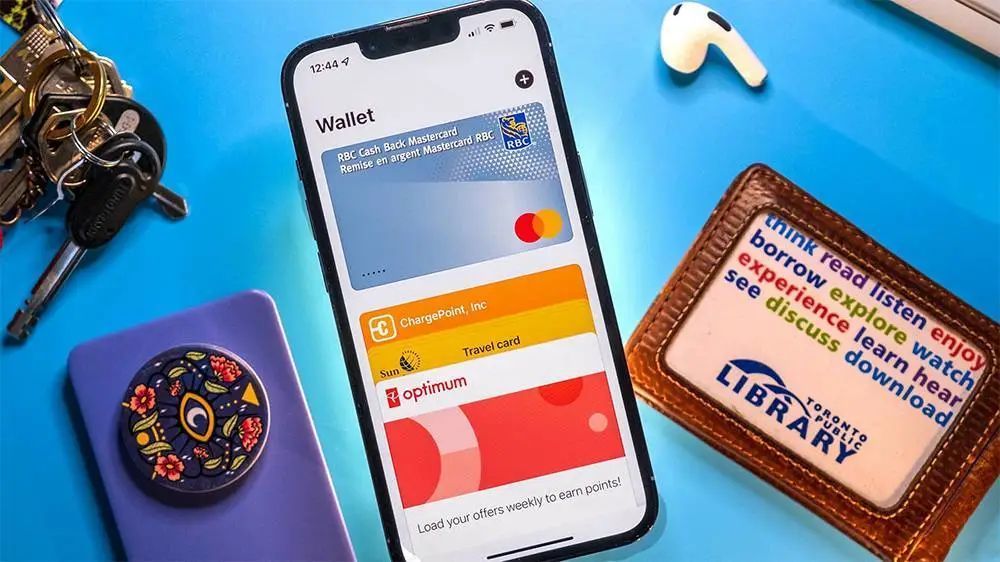 Apple Wallet. Image via: Mobile Syrup
Must-haves of the past, souvenirs of the present
Go back in time to the early 1980s and late 1990s, when the acid house club membership card was an important item for all nightlife lovers, because there was always a word ringing at the door of every club. - "No card, no entry".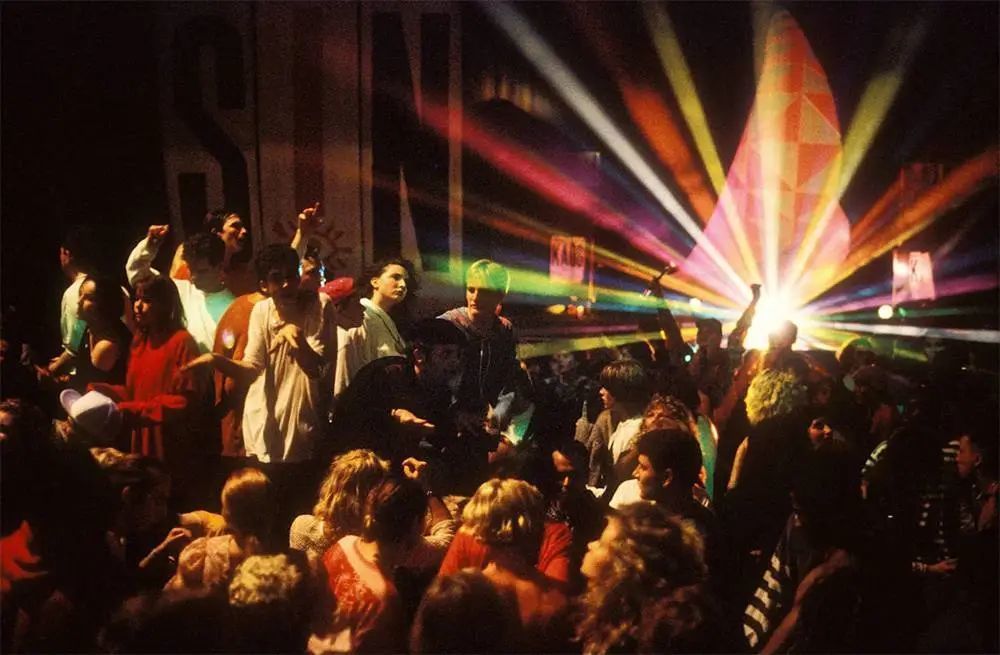 The Trip at Astoria in London's West End. Image via: Red Bull
FWA is a well-known platform for sharing excellent web design. It takes a completely digital route, but its founder Rob Ford recently went out and published a book to show off his physical membership card collection, in order to miss the one who cannot enter without a membership card. of past times.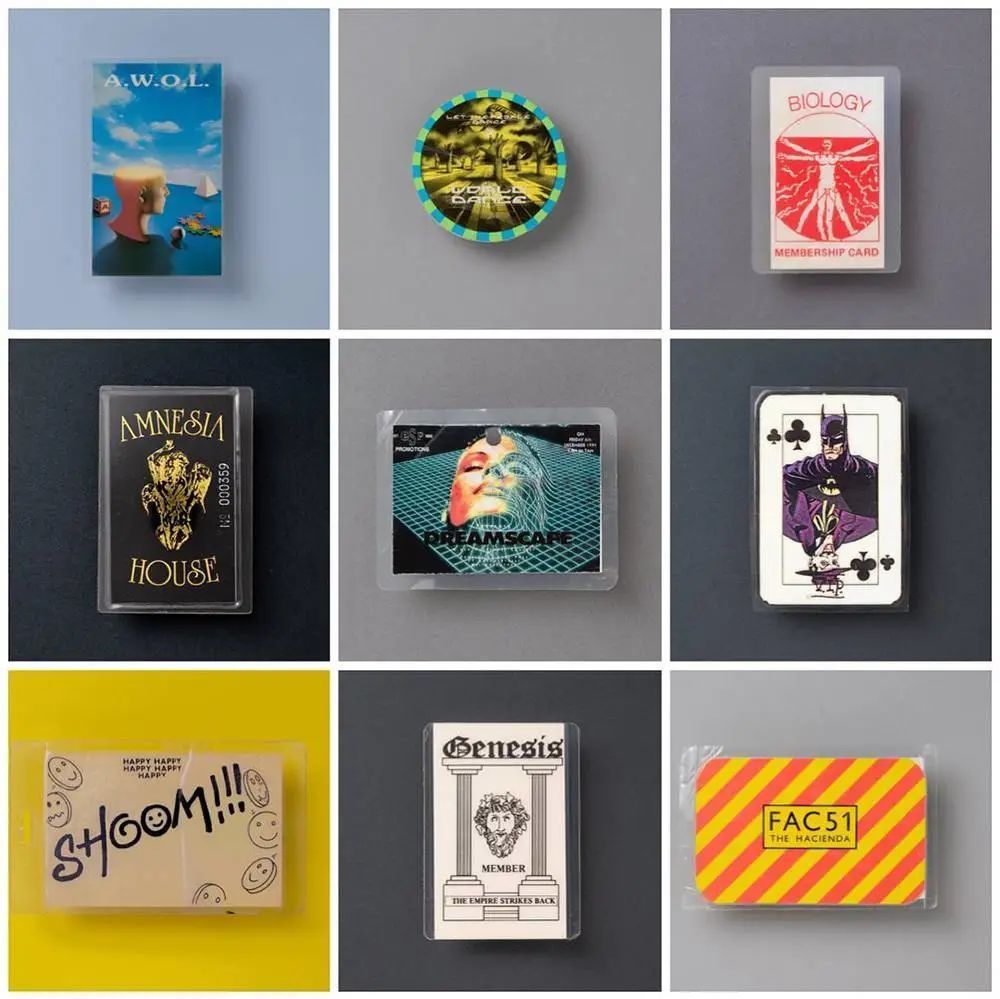 Membership card from the book "Members Only". Image via: Instagram @rave_a2z
This book is "Members Only", a 432-page hardcover book containing 500 membership cards in order from A to Z, the very famous clubs and dance halls of the time such as Amnesia House, Biology, Dreamscape, Eclipse Cards are all included.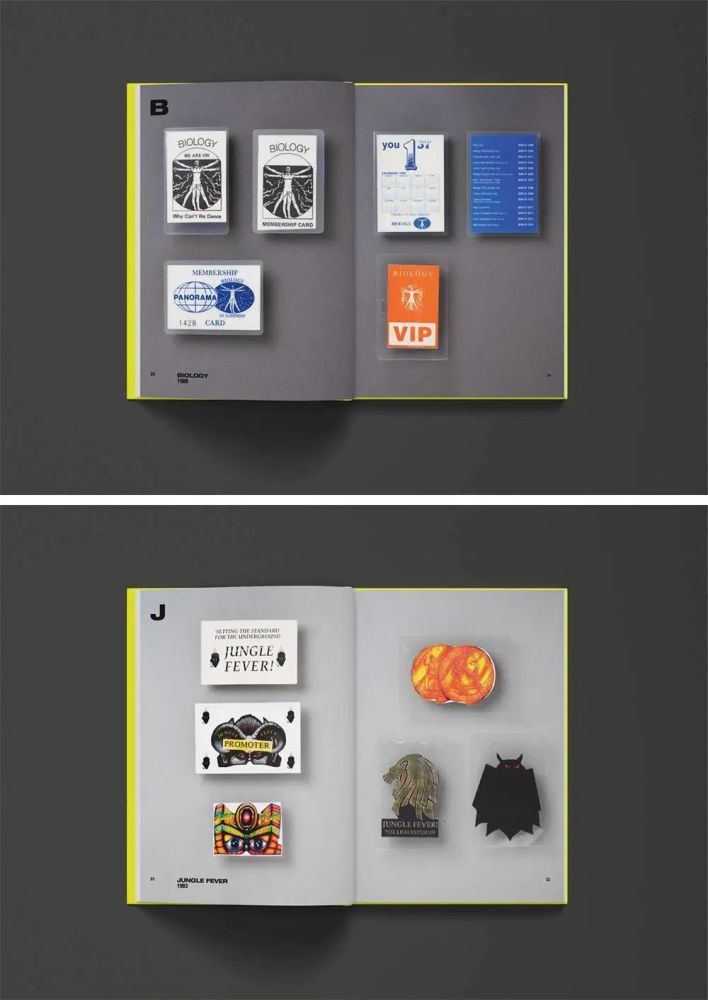 Inside of Members Only. Image credit: Creative Boom
In the late 1980s and early 1990s, as a young man, Rob Ford started collecting membership cards and passes, and a few years later he started collecting party flyers. It's a pity that in his twenties, he threw away these now-collectible flyers. However, those membership cards were all kept by him.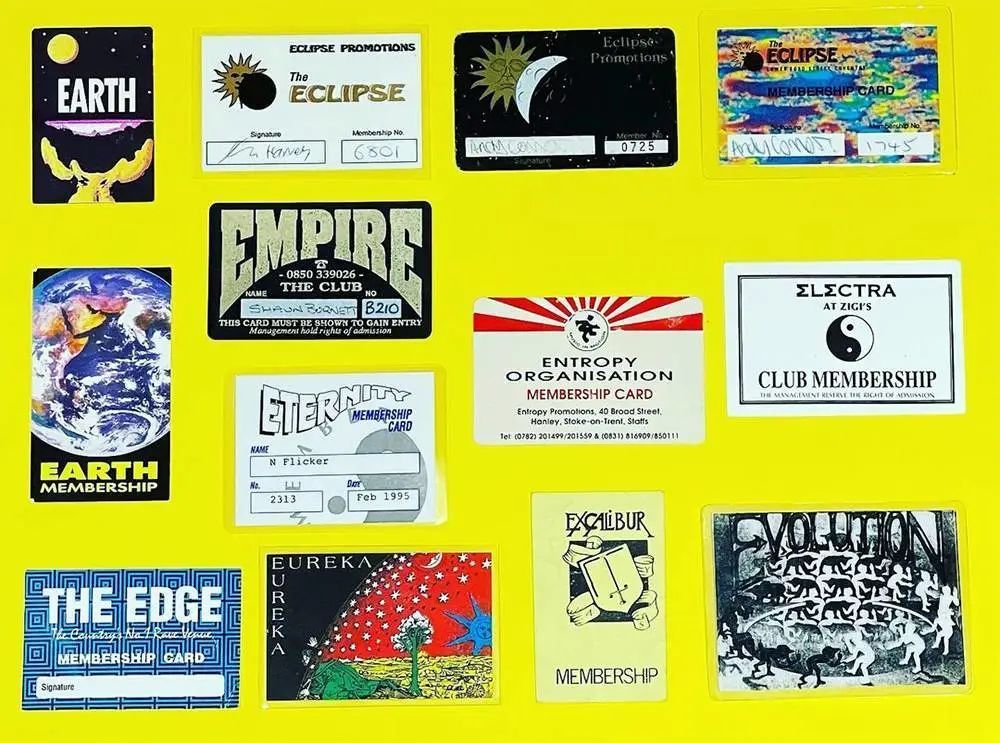 Card collections starting with E. Image via: Instagram @rave_a2z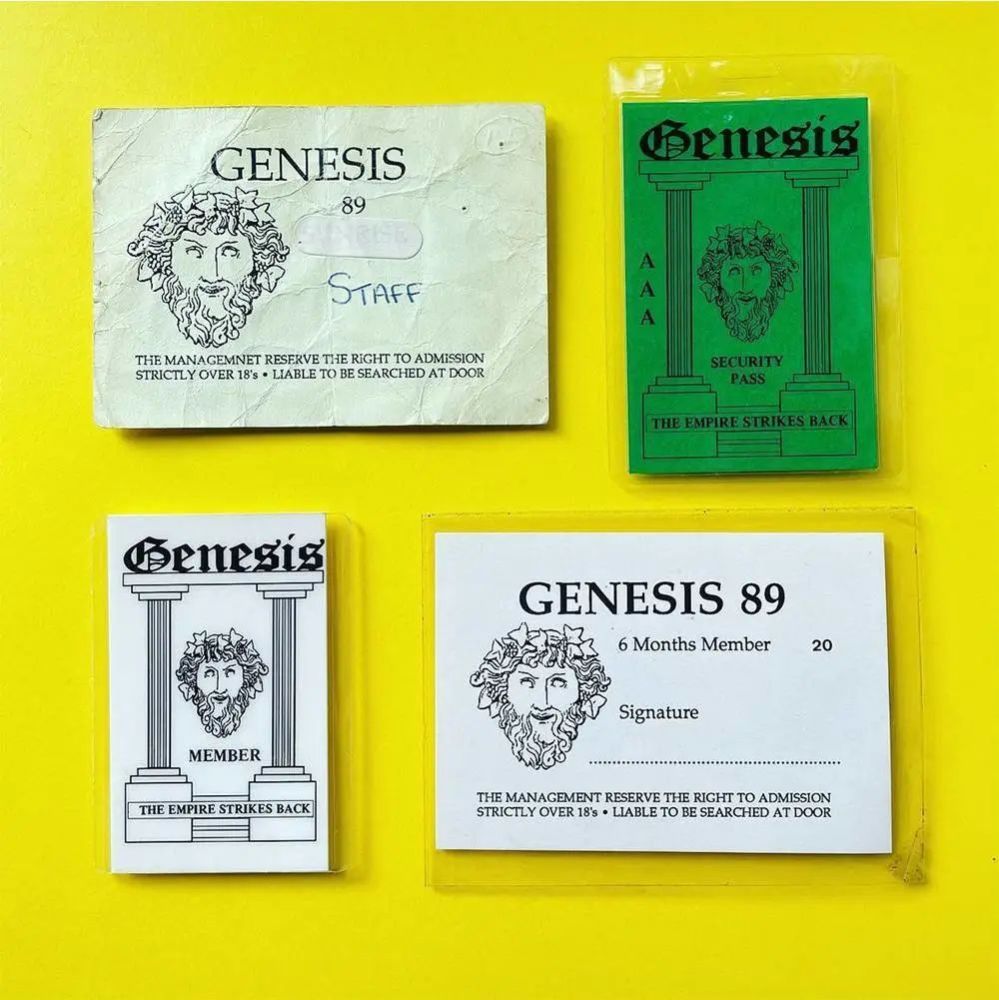 Genesis Card Collection Collection. Image via: Instagram @rave_a2z
As he approached 50, he started collecting membership cards again, and has accumulated nearly 800 so far. This makes him now, in addition to the founder of FWA, another title that is popular on the Internet - membership card collector. In the professional community of graphic design collectibles in the carnival era, there is really no one who has won Rob compared to the collection of membership cards and passes.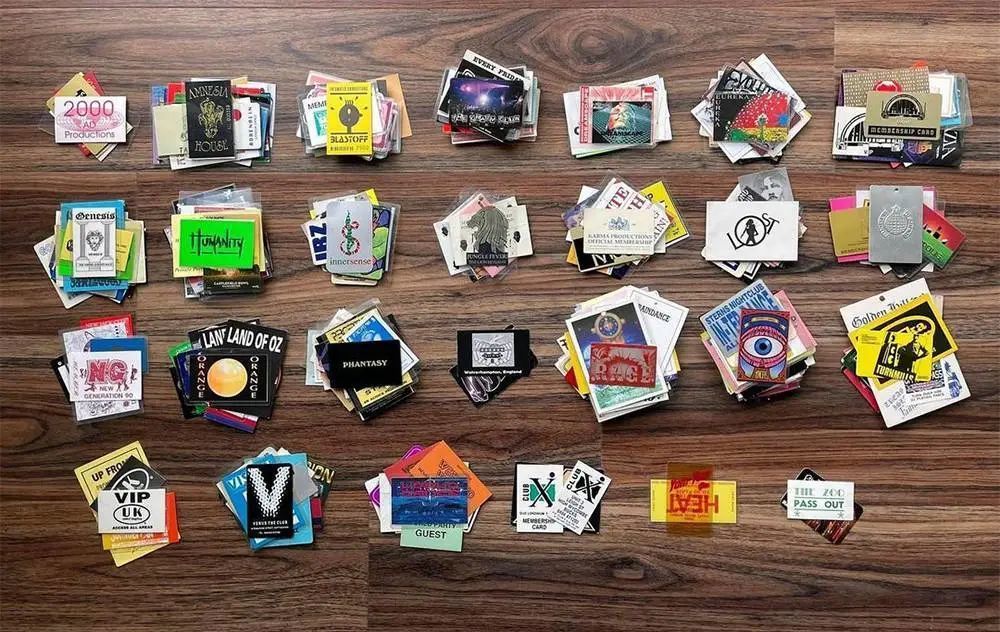 Membership cards and passes collected by Rob. Image via: Instagram @rave_a2z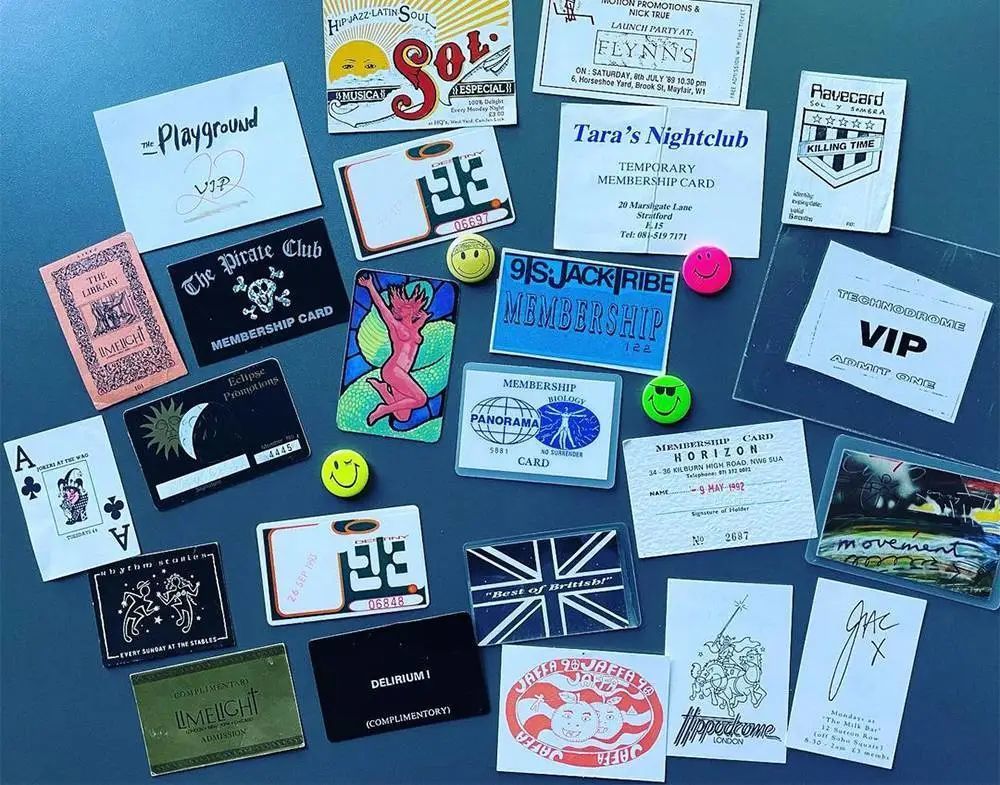 Membership cards and passes that Rob has collected recently. Image via: Instagram @rave_a2z
The Amnesia House membership card is a testimony to his first club bash, with the logo and lettering in gold on a black background, and the coding on one side that has worn away over time.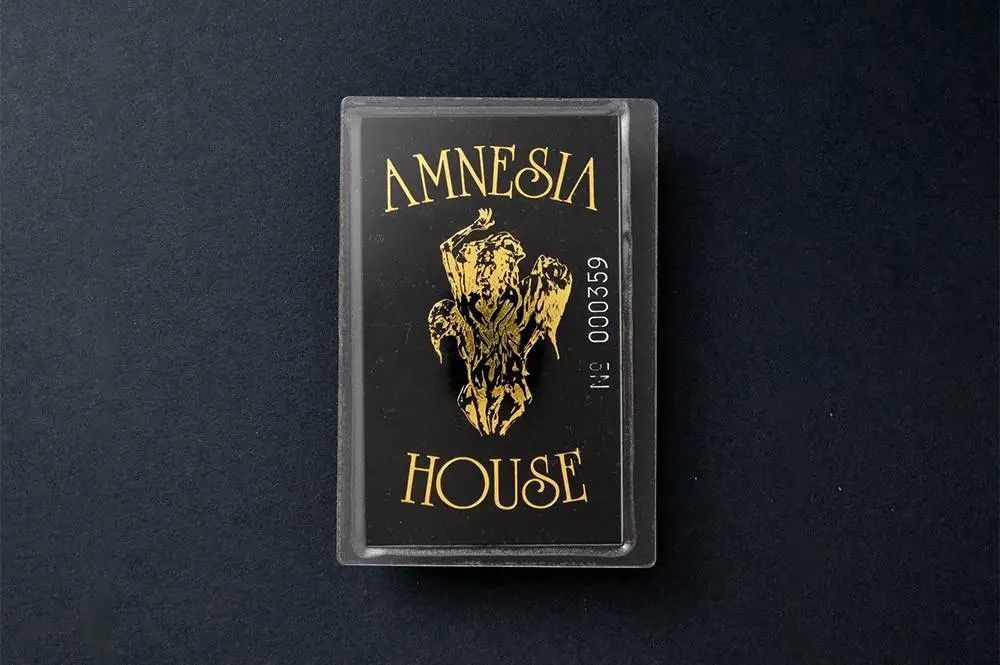 Amnesia House membership card (1991). Image via: It's Nice That
Among these precious collections, there is one membership card that stands out – the 1874 membership card from the United States. At the New Year's party held in Sandy Creek, USA on January 1, 1874, the participating members were given a card that looked like an ID card - with the member's photo on the back.
But Rob's most beloved collection is the Shoom membership card with the famous smiling face design and lots of little yellow face badges from the brother of Shoom founder Danny Rampling.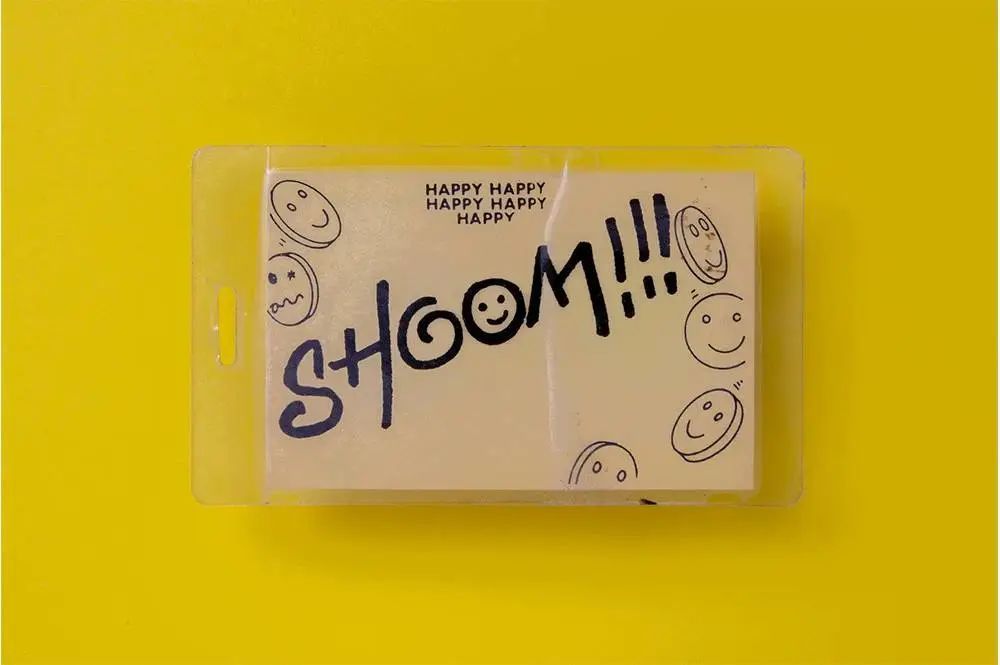 Shoom Membership Card (1988). Image Credit: It's Nice That
This Shoom membership card was designed by Dave Little. Dave Little is a representative designer of the Acid House era. A poster he designed is a high-end artwork that can be permanently collected in the museum.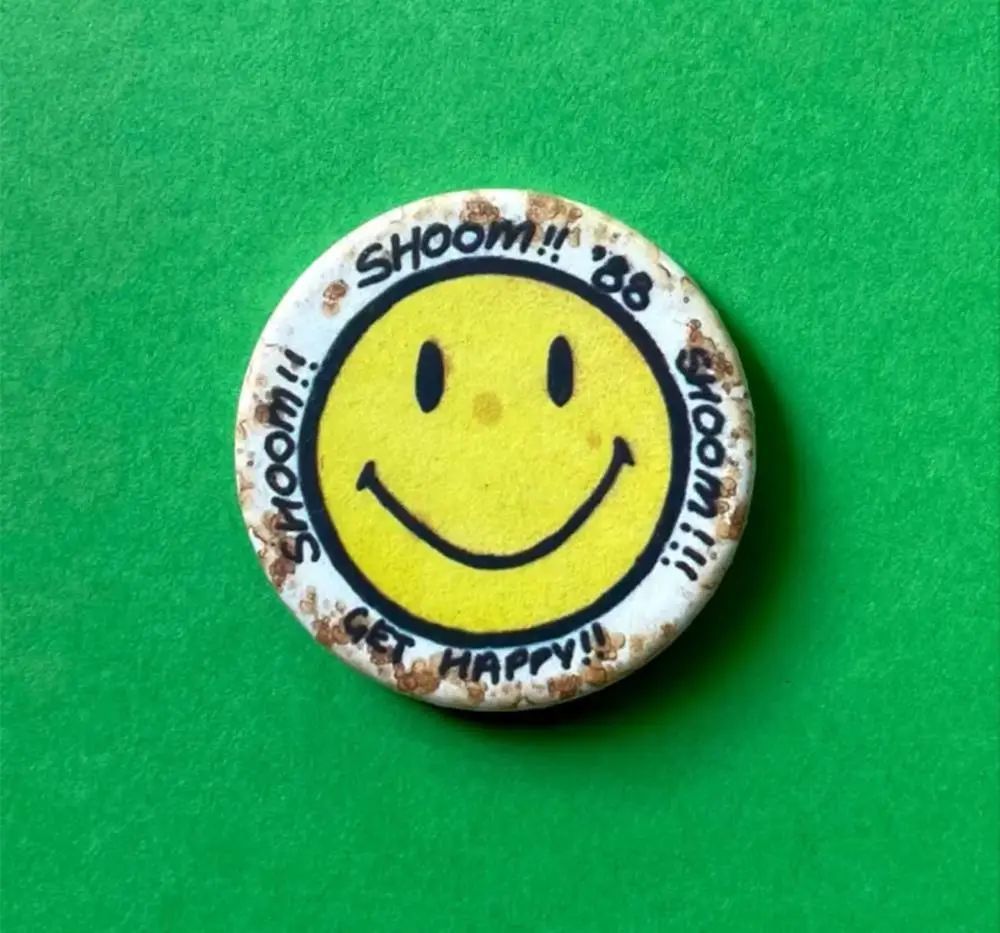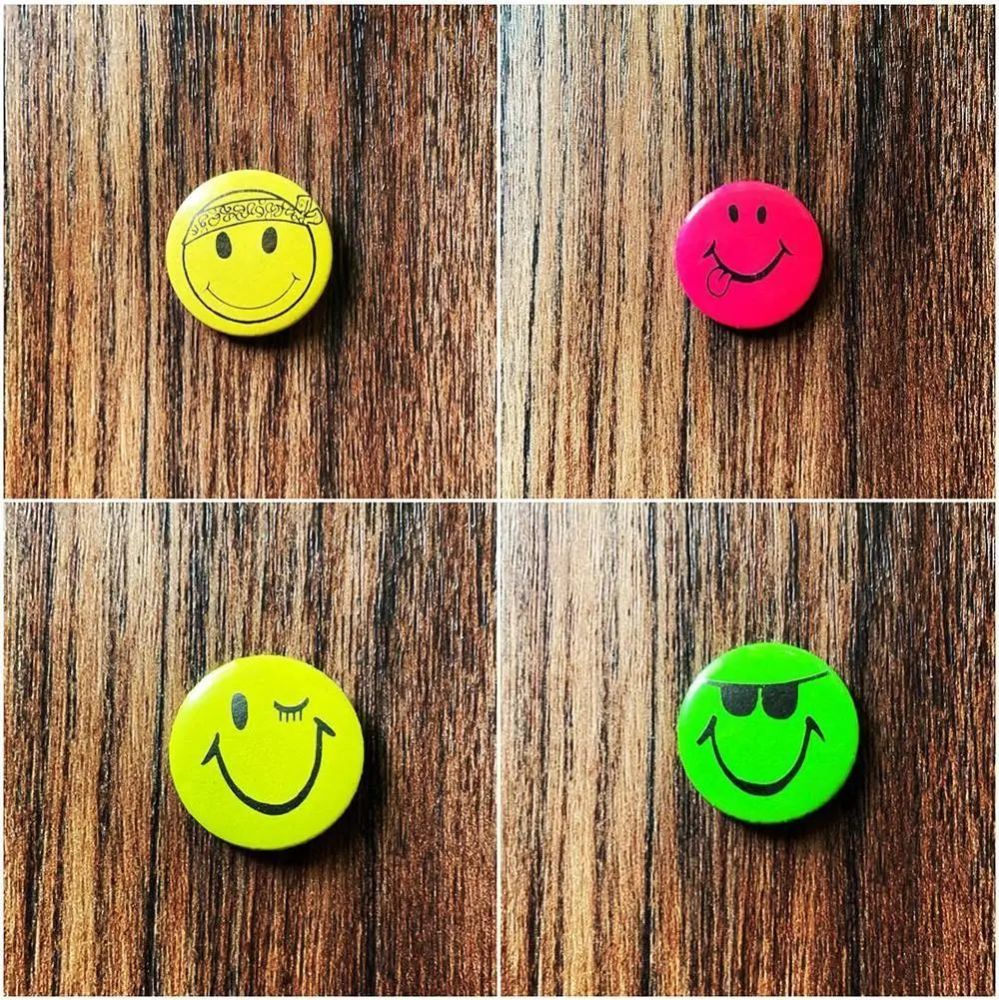 Smiley badges collected by Rob. Image via: Instagram @rave_a2z
Members Only is almost an encyclopedia of underground culture and arts like Acid House. Had the work been submitted to the Biennale or the Turner Prize on a large scale, it should have won first prize. The designers who created these cards and passes are a testament to the lofty ambitions of this generation.
—Sarah HB (famous DJ and broadcaster)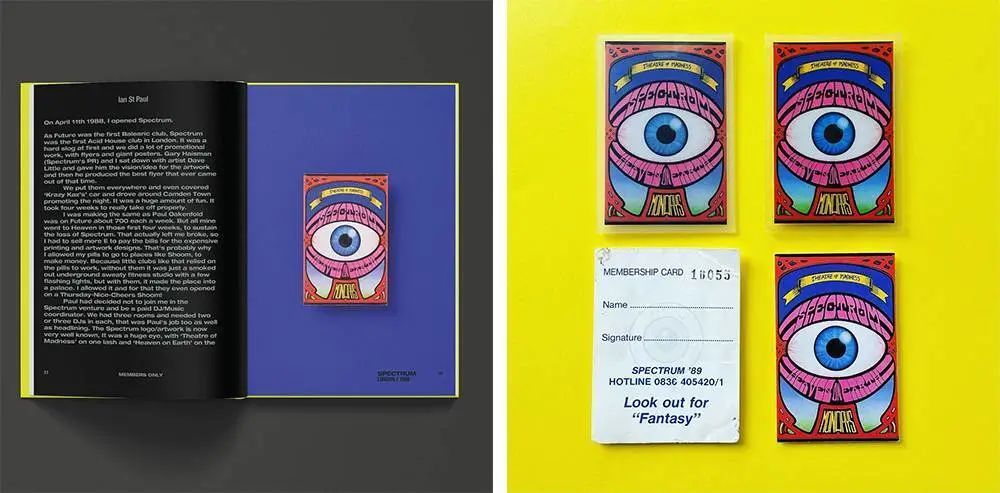 Physical photos of the inside pages and cards of Members Only. Image via: Instagram @rave_a2z
Designed by Jon Cefai of Design Studio Collaborate London, the simple monochromatic design accentuates the various membership cards inside – the physical cards are as real as your fingertips when you open the book.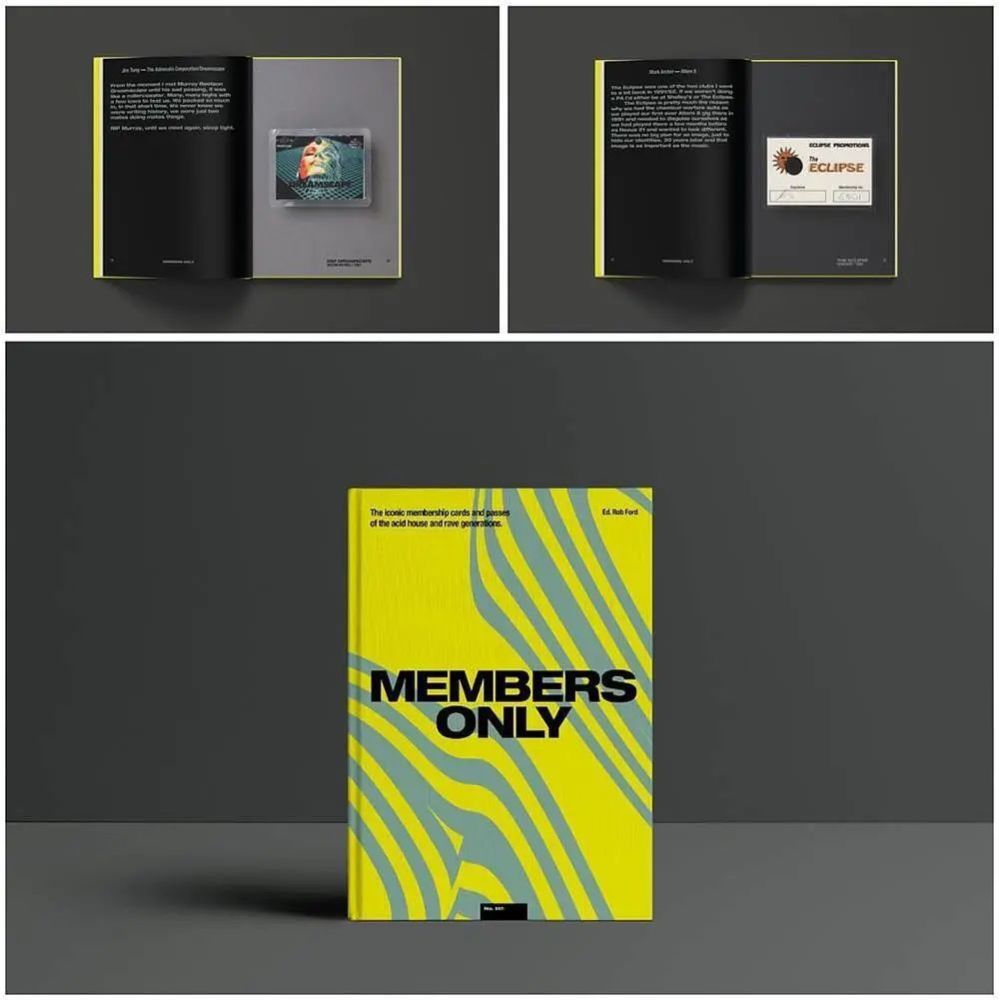 Members Only. Image via: Instagram @rob_fwa
It is worth noting that the cover of the book published in the first edition will have an exclusive number, which is as unique as a membership card printed with a unique number.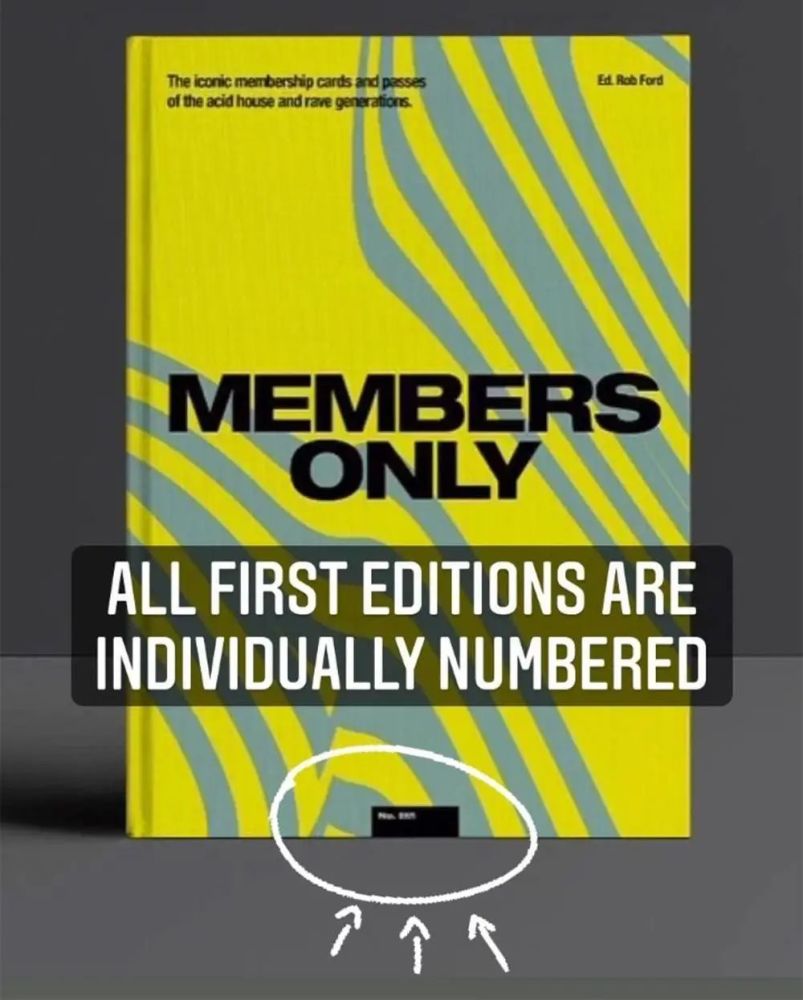 Members Only. Image via: Instagram @rob_fwa
"Members Only" is published by Velocity Press and is expected to be officially released in September this year. It is said that customers who registered for pre-order in June will get it in advance in August, and the book will also have their name printed on it.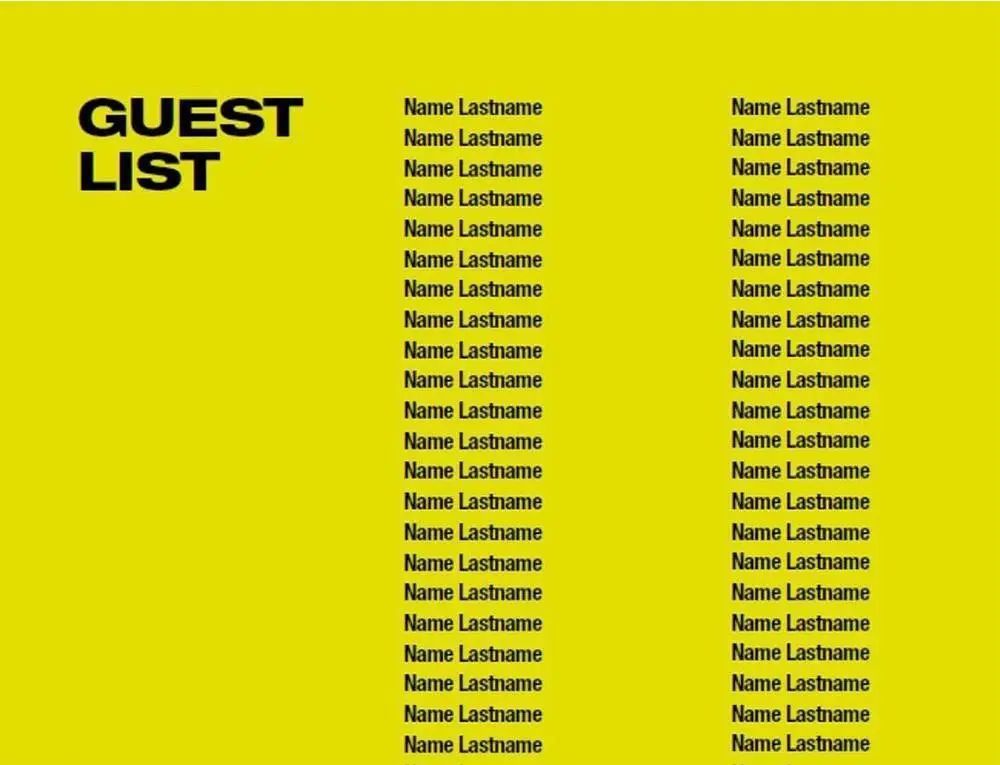 The name of the pre-order customer will appear on the Members Only book. Image via: Instagram @rob_fwa
Overall, the digital process of membership cards still has more advantages than disadvantages. Although these card bills are limited to the boxy screen of the mobile phone, there is less precious experience integrated into the touch in design, and the sense of ritual of receiving and holding cards is also missing when using, but There are the following benefits.
In addition to all the functions of the physical card, you can learn more information and enjoy more services; avoid the embarrassment of forgetting the card, lost the card and re-applying, and at the same time has a higher level of security; easier and faster card management, on the mobile phone It can be done with the touch of a finger; it is more environmentally friendly, and by reducing the printing and issuance of physical cards, it contributes to the sustainable development of the environment; merchants can also use data such as activity to improve and improve service levels in real time.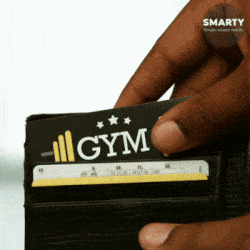 Image via: Giphy
This does not mean that physical cards will disappear completely, there is still a lot of potential in itself waiting to be discovered.
No, Florida Gov. Ron DeSantis recently sold a Gold membership card for his gubernatorial campaign for $20. The 100-piece gold card features a grinning image of DeSantis next to "Florida's No. 1 Fighter."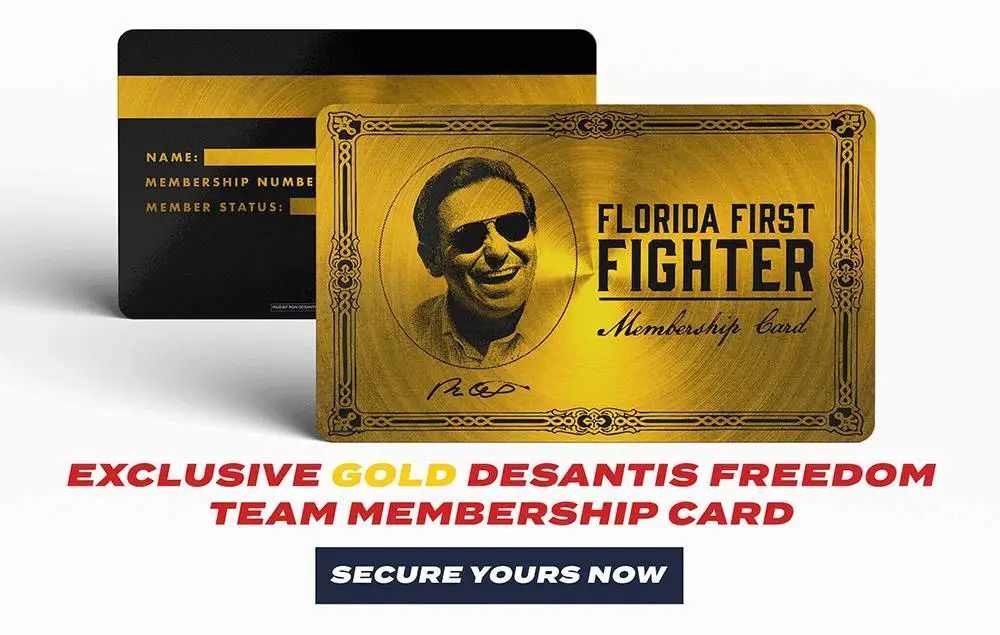 Ron DeSantis Kinka. Image via: Rick's Blog
Exactly a year ago, former US President Trump also issued a membership card - the official Trump card.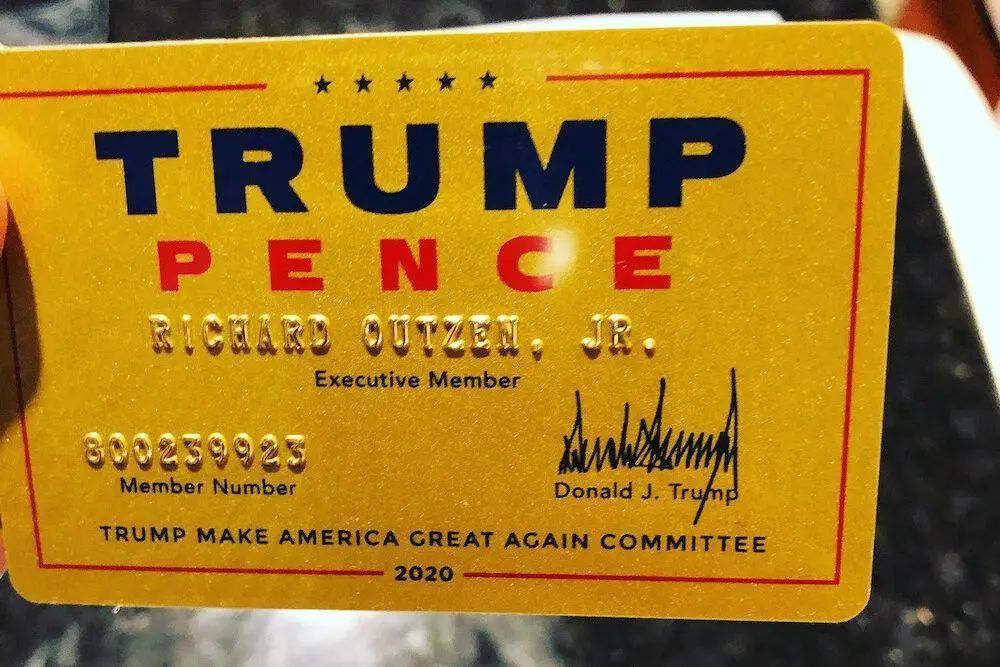 Trump card. Image via: Rick's Blog
Let us wait and see what kind of sparks the physical membership card and electronic membership card will collide in the future.
related articles
Article Comments (0)
This article has not received comments yet, hurry up and grab the first frame~