After winning 80% of the shipment share of consumer AR products, Nreal plans to switch to the Chinese market
2022-08-18 13:21:28
53 read
  After years of hard work in overseas markets, Chinese AR start-up Nreal plans to expand into the Chinese mar...
  After years of hard work in overseas markets, Chinese AR start-up Nreal plans to expand into the Chinese market and is about to release consumer-grade AR software products.
  In an interview with Jiemian News and other media, Nreal founder and CEO Xu Chi said that AR products are currently at an inflection point. Under the new terminal revolution, Chinese companies have great opportunities.
  Nreal was established in January 2017. Its founder, Xu Chi, worked as an engineer at MagicLeap, an early AR company. Its investment lineup is luxurious, including Kuaishou, Weilai Capital, Yunfeng Fund, Sequoia China, Hillhouse, Hongtai Fund, CICC Capital, Shunwei Capital, CPE Yuanfeng, Huachuang Capital, iQiyi, etc. On March 30, Nreal announced the completion of a $60 million C+ round of financing, led by Alibaba.
  Xu Chi said that the current AR market is similar to the smartphone industry in 2007, at an inflection point, and the underlying technology is beginning to mature. Previously, Nreal focused on overseas markets, launched AR glasses for telecom operators, and positioned fashionable digital products for streaming media playback, fitness applications, etc.
  The push of global operators has created favorable conditions for the popularization of AR devices in the consumer market. According to market research firm StrategyAnalytics, Nreal's share of consumer AR terminal shipments will reach 75% in 2021, and by the first half of 2022, this figure will rise to 81%, occupying a major position in the early consumer AR market.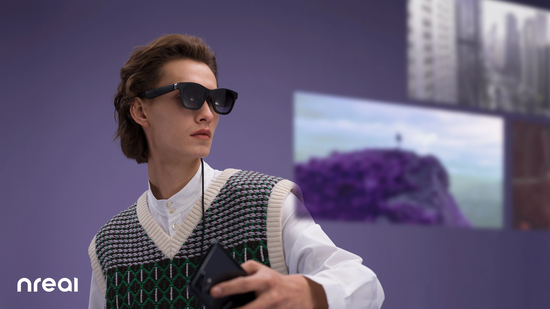 AR glasses were once regarded as the next-generation mobile platform after smartphones. The AR experiment in which the virtual world is superimposed on the real world through the screen for interaction can be traced back to aerospace applications in the 1990s. Google took the lead in releasing the first generation of Google Glass in 2012, but it was discontinued half a year after its release due to poor performance and easy violation of others' privacy. In 2017, Google launched the second-generation Google Glass Enterprise Edition, targeting vertical industries such as manufacturing, logistics, and medical care, with a price of up to $1,829. Microsoft launched the first-generation HoloLens in 2015, which was expensive in China and failed to gain popularity.
  The era of remote office started by the new crown epidemic is promoting the arrival of the spring of the AR industry. The recent application of AR in the industrial field is eye-catching. For example, the lithography machine giant ASML uses AR technology to maintain the lithography machine equipment, and Microsoft is also working on this.
  But Nreal still sticks to the consumption route. Xu Chi believes that, in the AR field, Nreal hopes that the release of new products will have a similar effect.
  The AR market has a high threshold. IDC once said that if a start-up company wants to enter this market, it needs to provide customized services for the enterprise in the short term, because it is difficult for consumers to spend thousands of yuan to buy a product with insufficient content.
  This is also one of the reasons why Nreal products have not been unveiled in China. Xu Chi mentioned that the company had planned to enter the domestic market before, but still hoped to polish the experience before releasing it.
  He said that compared with Europe, America, Japan and South Korea, the maturity of China's AR market is relatively low, and it is necessary to let users intuitively feel the experience innovation brought by AR through some application products jointly created by giants, so that users can truly accept AR products. . At present, Nreal cooperates with content platforms such as iQiyi to launch adaptive applications for AR glasses to improve content richness. Overseas, Nreal also tries to support applications such as Steam to further strengthen the software application ecosystem.
  However, Xu Chi also emphasized that the supply chain in the field of AR equipment is not complete enough, and professional talents are scarce. Compared with computers and mobile phones, AR glasses must not only see the real world through the lens, but also project the virtual image clearly, which requires continuous improvement of display technology.
  In this regard, Xu Chi said that the optical performance of Nreal's AR equipment can meet the basic needs of consumers. At present, Nreal's AR glasses can achieve a 52-degree field of view and 1080P resolution display effect. Among them, self-developed optical modules that support device display are regarded by Nreal as the core competitiveness. An Nreal engineer told Jiemian News that Nreal has established an optical module production line that can achieve a 97% production yield.
  In addition to optical modules, there are also new advances in computing processing power and communication technology related to consumer-grade AR device technology.
  Qualcomm launched the wireless AR device reference design in May this year, which was jointly developed by Qualcomm, Goertek and Vision Technology, which greatly improves the volume, weight and comfort of AR glasses. According to the AR/VR device evolution roadmap previously announced by Qualcomm, the currently developed VR headsets and AR glasses, two major devices, will eventually merge into "XR devices" with the evolution of wireless connection technology and chip computing power, and will be separated from local devices. Interacting with the cloud, it can provide AR/VR functions independently. On the AR glasses side, the wireless connection between glasses and computing devices such as computers and smartphones will be the mainstream trend in the next 1 to 4 years.
  However, the advancement of such equipment still requires further development of infrastructure. "In the near future, we may see the launch of smart glasses that support 5G connection." Si Hongguo, vice president of Qualcomm Technologies and general manager of XR business, told Jiemian News that wireless connection technologies such as 5G and Wi-Fi will drive the future The development of AR smart glasses, but in order to achieve cloud interaction, it is necessary to realize the separate processing of the cloud at the infrastructure level in the future.
  Xu Chi told Jiemian News that Nreal has pre-researched the reference design scheme for wireless AR devices, but there are still challenges in productization, "How much weight can consumers accept and how long the battery will last? It may take a while. Technological iterations over time."
  In the consumer market, technology giants such as Apple and Google have gathered, and in recent years, they have transferred their technology accumulation to software to prepare for the wind: In 2017, Apple launched ARKit, an AR development platform, which software developers can use to create AR applications; Google also released in the same year The benchmark development platform ARCore is used for Android system. In the consumer market, there is also news that Apple will officially launch consumer-grade AR glasses in the first quarter of next year.
Article Comments (0)
This article has not received comments yet, hurry up and grab the first frame~